It's no secret that the layout of an office has an effect on productivity. Rows of cubicles or desks can feel stifling while overly open floorplans can turn your office into a social gathering. Striking a balance between deep working spaces and open collaborative areas is key for driving optimum office productivity. One crucial factor in achieving this is investing in the right office furniture. The right furniture pieces not only provide comfort but also contribute to better organization, increased focus, and improved workflow.
In this article, we'll highlight the top 5 must-have office furniture pieces that are key to enhancing productivity in the workplace.
Ergonomic Office Chair
So often you'll see an expensive, multi-featured desk paired with a cheap office chair. One with little-to-no lumbar support, ripped or faded fabric, and an unreliable recline mechanism.
Office workers can spend up to 40 hours a week in their chairs, so why are chairs often an afterthought?
An ergonomic office chair with adjustable height, lumbar support, and armrests ensures proper posture, reduces strain, and minimizes the risk of musculoskeletal issues. The right chair has optimal back support and promotes healthy sitting habits for maximum productivity.
While all OLG products are ergonomically designed, the Balance Executive is the perfect fusion of luxury function and premium finishes.
Height-Adjustable Desk
When it comes to desking solutions, the common belief is that fixed-height is more economic over the long term. And while it is true that fixed-height desks generally last longer than standing desks, that difference is often negligible. Even more so when you consider how often offices go between refreshes.
Fixed-height desks are nowhere near as versatile as standing desks, especially now where workstations are often shared in hybrid hot desk arrangements.
A height-adjustable desk offers flexibility and adaptability to accommodate different working styles. Not only that, there are mountains of research that detail the health benefits of using standing desks. The very act of switching between sitting and standing positions, promotes better blood circulation, reduces fatigue, and increases focus. The ability to adjust the desk height to a comfortable level contributes to improved productivity and overall well-being.
Part of the proven quality Agile+ family, the Agile+ Round features a circular leg profile, a 160kg weight rating, and can be integrated with a wide range of screens and cable management accessories.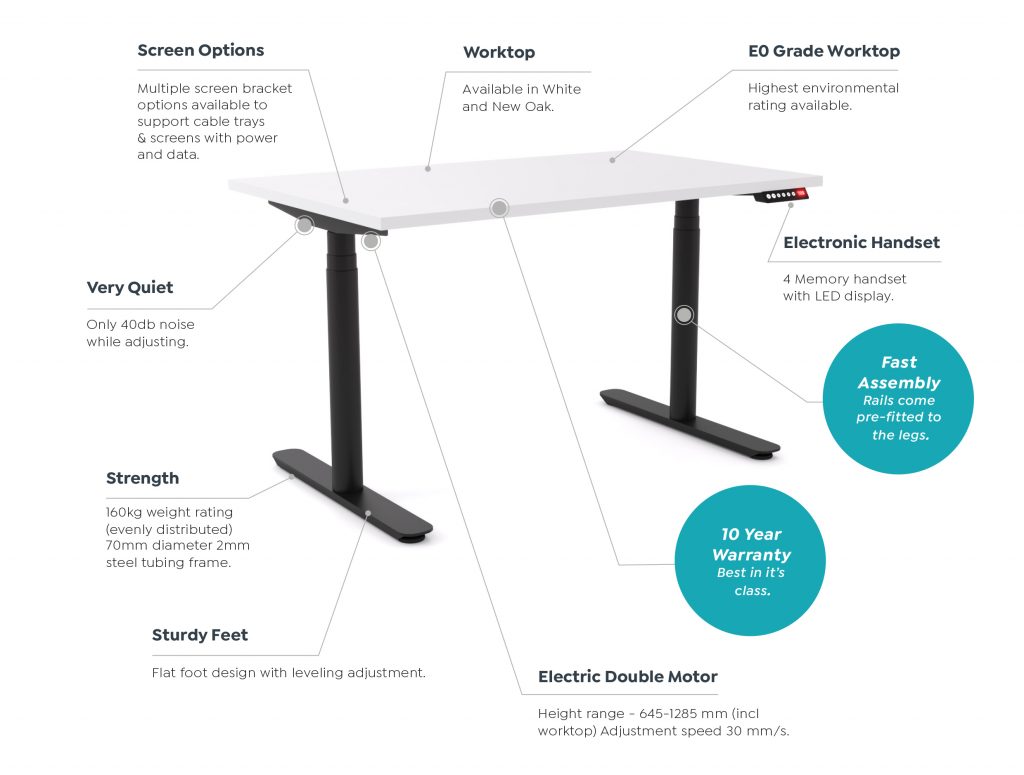 Space Management Solutions
Offices tend to collect a lot of junk and clutter. If you don't believe me, check the top pedestal drawer of any workstation. If it's not a convoluted mess of pens, paperclips and old charger cables there's a good chance no-one sits there.
Even though offices have gone largely paperless, there are certain items that still get hoarded. From manuals to induction folders and welcome packs, even a brand-new employee can have a desk full on day one.
On top of this, with numerous electronic devices in modern offices, cable management has become more important than ever. To promote a clean and tidy workspace free from mess and distraction, a productive office will include cable trays, clips, wire sleeves, and vertical cable management systems.
OLG have innovative storage solutions in both the Axis and Agile ranges. Everything from pedestal cabinets to bookcases, planter boxes and tambour units.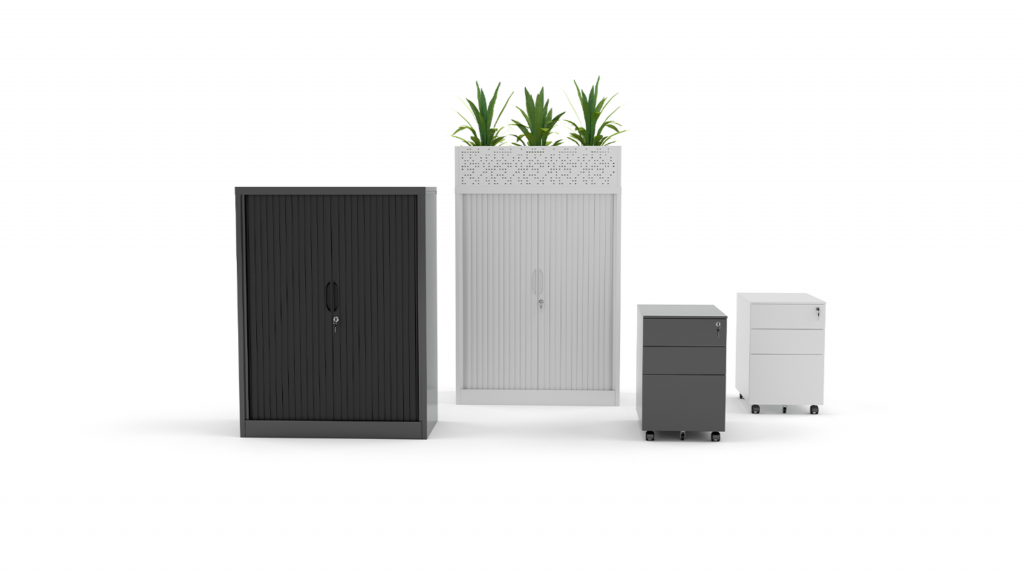 Our cable management systems can also be integrated into all desking solutions or provided as part of a unique office fit out project.
Collaborative Workstations
When you look at emerging office design trends around the world, one thing is clear. Rows of desks are out and collaborative spaces that mimic the campfire are in.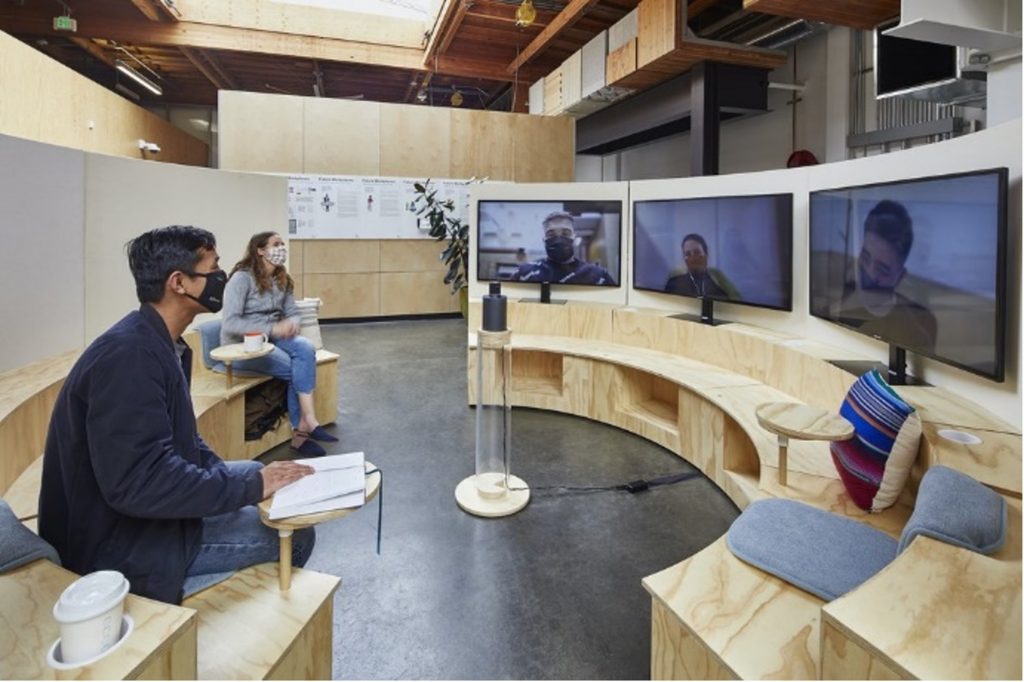 These collaborative workstations provide a space where colleagues can come together, exchange ideas, and work collectively, fostering creativity and productivity.
So, what office furniture pieces help promote collaboration?
Shared tables or modular desks help to facilitate teamwork and communication among employees. This includes pod configurations like we see in the Motion Office collaboration and meeting range.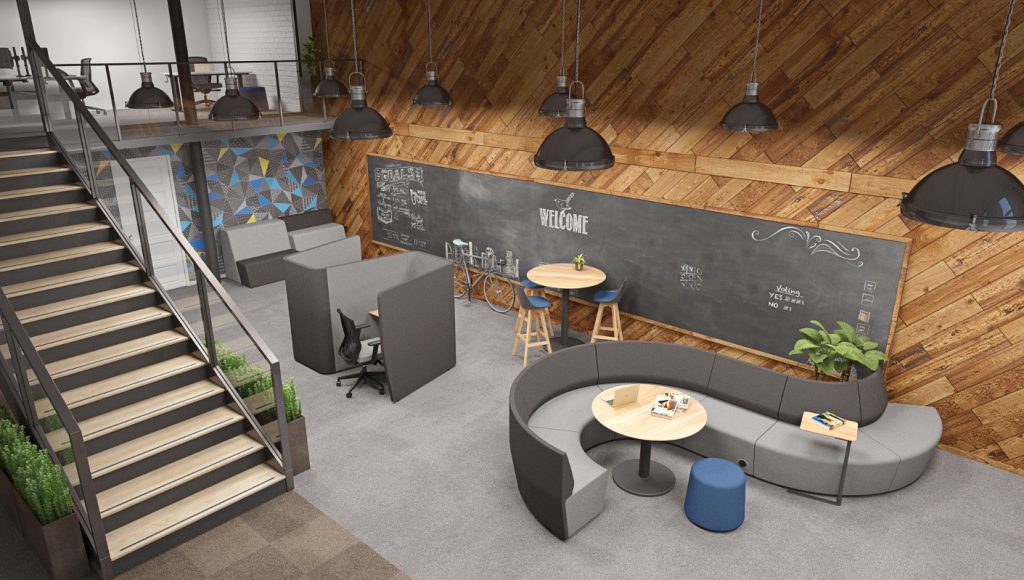 Privacy Screens
Offices can be a noisy place. Darren likes to do his sales calls at max volume, Cheryl chooses to have private conversations at her desk while Mark's sniffing has entered day three.
How we deal with excess noise in the office has a direct impact on the productivity of people that work there. Traditionally, we've used cubicle walls or insulated meeting rooms to create a sense of privacy. Today, there are many solutions that do this for us. Privacy screens or dividers offer a solution by creating individual workspaces and reducing visual and auditory distractions. Acoustic paneling can also be fixed to walls, suspended from ceilings, or placed in crucial areas to reduce ambient noise reflections.
OLG carries a range of acoustic options, from the practical Studio50 divider screens to large, ornate, sound-diffusing structures from our partner, Acoustiq.
But when silence is golden and privacy is paramount, the SpacePod offers the perfect escape from the noisy office floor.

Insulated by layers of sheet metal, birch plywood, recycled acoustic foam and acoustic felt, stepping inside feels like walking into a professional recording booth. Not only are you shielded from outside noise, but the internal acoustic treatments provide for crystal-clear, echo-free audio quality on phone and video calls. Mid to high range soundwaves are dampened by the acoustic felt while rounded floor and ceiling joinery helps address the build-up of low, bass sounds.
Available to use within hours of construction, the SpacePod includes a gas lift stool, tabletop, LED lighting, air-ventilation system, USB A/C ports and a 240V electrical power outlet. Placed in the middle of an open plan office or tucked away next to the overbooked meeting rooms, the SpacePod is the best way to incorporate private spaces without breaking the budget.
OLG Supports You
As one of Australia's leading office furniture wholesalers, we do everything in our power to support our project managers and resellers. For a full list of everything we can do, check out How OLG Can Win You a Deal.
Are you stuck for ideas? Or maybe you just want an office furniture wholesaler that you can rely on. Feel free to give us a call at 02 8188 2732 so we can discuss some options.
Want to keep reading? Find out what's new with OLG or head over to the OLG Learning Centre. You'll find a curated archive full of educational articles and industry content, all completely free to use.