With the decline of the humble public phone booth across the country, it is becoming increasingly difficult for Superman to find a place to get changed. Luckily, for us, phone booths are making their way off the streets and into the office. They're an innovative and stylish way to introduce a little privacy into the noisy office floor. But just like with anything, there's a lot of choice in the market.
Generally speaking, you get what you pay for. Cheaper products generally aren't as reliable as the higher quality products that cost more. But with such wild variations in phone booth categories, how can you tell if the price tag matches the quality? More specifically, how do you know if an OLG phone booth (or any other phone booth for that matter) is worth the price?
In this article, we'll compare four virtually identical entry-level phone booths. One our budget conscious Qzone and the other three are similar phone booths produced by some of our competitors. Without naming names, we'll compare price ranges, capabilities, and feature inclusions on all three phone booths. By the end of this article, you'll have a better understanding where OLG sits in the market, both in terms of price and quality.
The Four Contenders
To keep things fair, we've selected the "base model" of three, entry-level phone booths from three of our unnamed competitors and compared it with our Qzone product.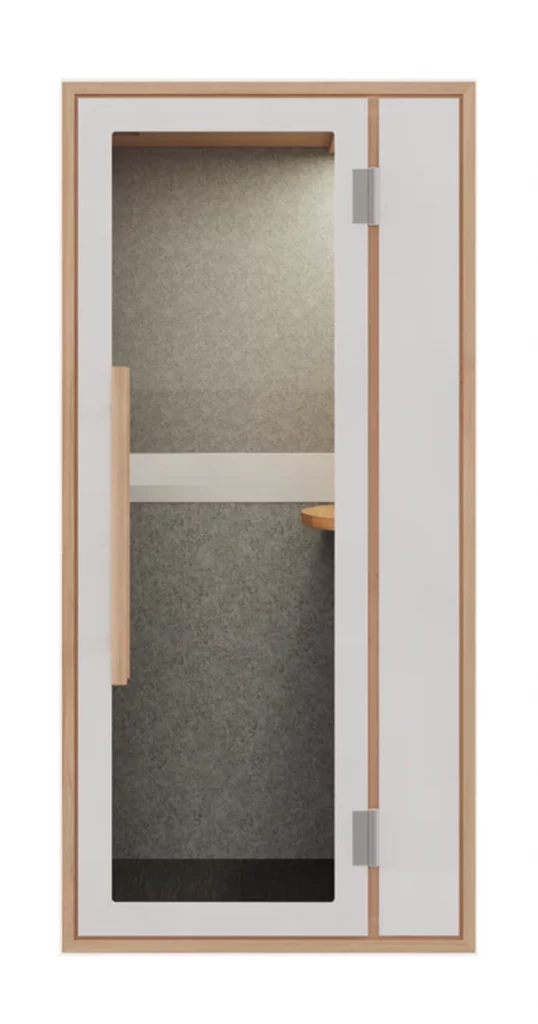 1. Phone Booth #1
Our first phone booth is the very definition of a no-frills product. There's no bells and whistles, no fancy inclusions, just a quiet pod that breaks up the noise of the office floor.
It features a 28dB sound absorption rating, two 20V fans and the fastest install time of any phone booth on the market. With two people, this booth can be comfortably set up in less than an hour. Despite being the cheapest phonebooth on offer, its actually the heaviest by far. Tipping the scales at 580 kilograms, however, portability isn't one of its strong points.
2. OLG Qzone
The OLG Qzone has a surprising number of premium inclusions for its sub $10k price tag.
Firstly, it includes an industry-best 10-year warranty and an SGS test assessment of 21 (GB/T 18699. 1-2002). In that test, they found that the Qzone's weighted sound pressure isolation level is 21. That's the equivalent of an alarm clock being reduced to a normal conversation, or an office to a library. While it may appear to have the least amount of sound absorption on this list, it's the only booth with certified laboratory testing and proof of exact sound levels.
Wrapping the exterior of the Qzone is your choice of Acoustiq panelling. In addition to the unique colour customization this creates, the panelling provides additional sound absorption for the wider office floor.
Lastly, availability of stock is another area that the Qzone tops our comparison list. OLG have enough on-hand inventory to offer same day dispatch, all of which incurs no delivery fees for metro orders.
3. Phone Booth #3
The third phone booth on our list is a breath of fresh air. Literally. With two fans capable of replacing 100 cubic metres of air per hour, there's no chance of you feeling stuffy while inside one of these units.
A reported sound reduction of 29dB, this booth is among the quietest on offer, however the 6-week dispatch lead time and 4-hour install time can make quick turnarounds a little difficult.
Credit where credit is due: aesthetic and style is where this booth shines. For lovers of dark, modern, and moody colour schemes, you'll feel right at home.
4. Phone Booth #4
Lastly, the fourth and final phone booth on our comparison list comes from our "cheap and cheerful" competitor. Normally, products from this supplier are amongst the most budget-conscious on the market, however this phone booth seems to be the exception.
It's hefty price tag does come with the best reported sound absorption for an entry level phonebooth. Despite this, there is a disclaimer that mentions a ±5dB variance, so take this value a grain of salt.
Where this phone booth does excel is in the power department. Inside you'll find two general purpose power points, as well as both A and C-type USB ports for multiple devices.
If this phone booth meets your needs, you have to keep in mind the comparatively expensive delivery fee. Expect to pay around $700 delivery after a 4-week lead time.
Product Comparison – Side by Side
We've taken the most commonly advertised specs and capabilities and arranged them for easy comparison. In the table below, you can clearly see which products deserve their price tag and which products are charging for a brand name.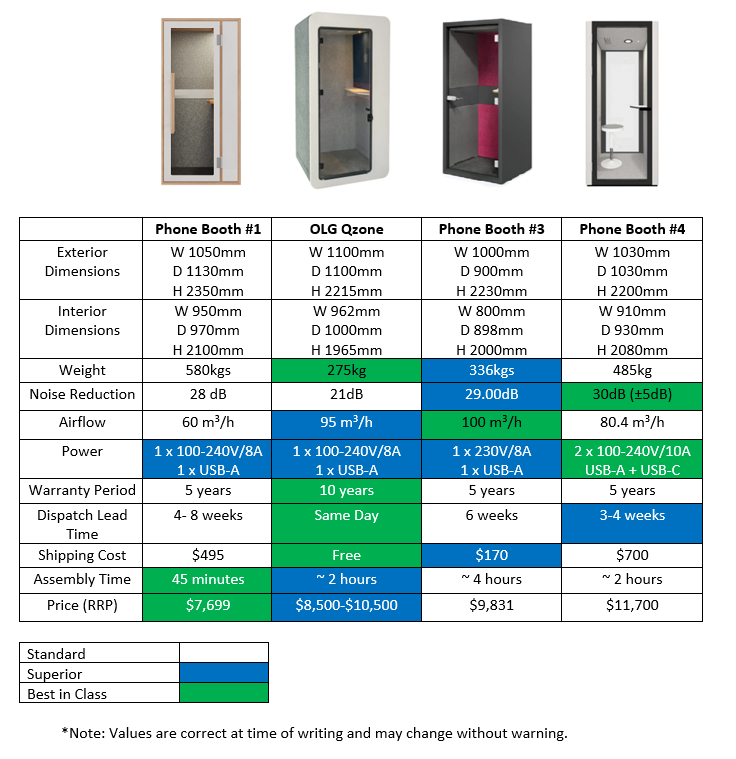 OLG Supports You
As one of Australia's leading office furniture wholesalers, we do everything in our power to support our project managers and resellers. For a full list of everything we can do, check out How OLG Can Win You a Deal. If you're stuck for ideas, or simply want an office furniture wholesaler that you can rely on, feel free to give us a call at 02 8188 2732 so we can discuss some options.
Want to keep reading? Find out what's new with OLG or head over to the OLG Learning Centre. You'll find a curated archive full of educational articles and industry content, all completely free to use.