OLG offers two phonebooths at very different price points. One is the entry-level Qzone phone booth, the other is our premium SpacePod. At a glance, it can be difficult to understand or justify the difference in price and inclusions, so in this guide, we'll break it down and compare like for like.
Qzone Phone Booth
The Qzone is the perfect solution for escaping a loud working environment, creating a quiet haven amongst the corporate chaos. Step inside and you'll instantly hear the difference! It's the ideal hideaway when you need to make confidential calls, attend private Zoom meetings or just need a few moments to collect your thoughts in silence.
Framed with melamine and insulated with layers of sound absorbing foam, the Qzone achieves a certified sound pressure isolation level of 21. That's the equivalent of an alarm clock being reduced to a normal conversation, or an office to a library.
Inside, you'll find a host of premium inclusions, from motion-activated LED lighting to integrated GPO and USB power. There's also a mounted worktop for laptops and notetaking.
Wrapping the exterior of the Qzone is our proprietary Acoustiq panelling. Not only does it help insulate users, but it also acts to diffuse ambient noise across the wider office floor. While the standard Acoustiq panelling is Charcoal Grey, you can customize your phone booth with a range of vibrant colours.
Setting aside style and aesthetics, Qzone enables the creation of quiet spaces that everyone can use.
SpacePod Phone Booth
When silence is golden and privacy is paramount, the SpacePod offers the perfect escape from the noisy office floor.
Insulated by layers of sheet metal, birch plywood, recycled acoustic foam and acoustic felt, stepping inside feels like walking into a professional recording booth. Not only are you shielded from outside noise, but the internal acoustic treatments provide for crystal-clear, echo-free audio quality on phone and video calls. Mid to high range soundwaves are damped by the acoustic felt while rounded floor and ceiling joinery helps address the build-up of low, bass sounds.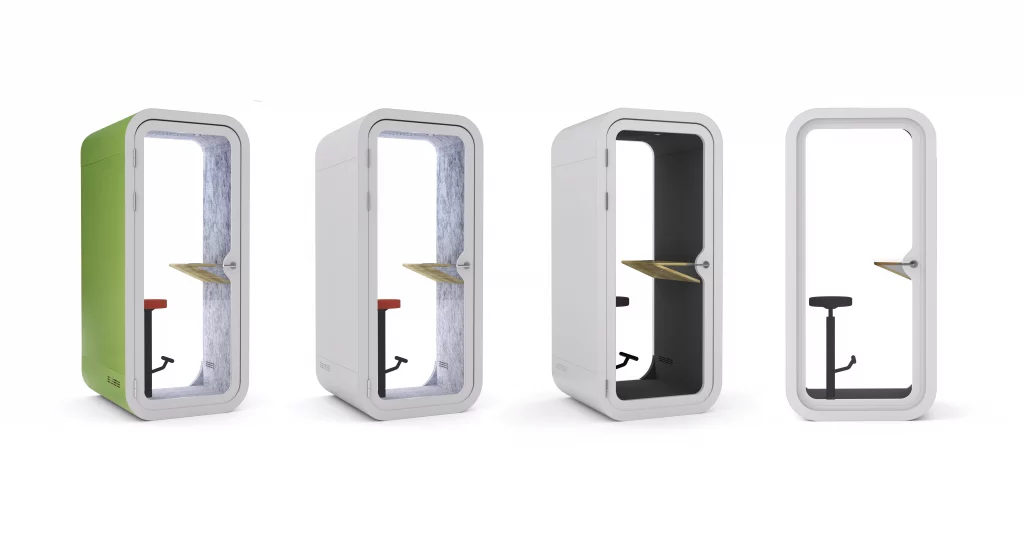 Available to use within hours of construction, the SpacePod includes a gas lift stool, tabletop, LED lighting, air-ventilation system, USB A/C ports and a 240V electrical power outlet.
Versatility and convenience are hallmarks of the SpacePod design. Placed in the middle of an open plan office or tucked away next to the overbooked meeting rooms, the SpacePod is the best way to incorporate private spaces without breaking the budget.
Compare the Pair
Marketing blurbs are great, but they only tell half the story. The best way to determine the best value-for money product is to put their prices and specs side-by-side.
We've created a table below with the inclusions and technical specifications of both the Qzone and SpacePod so you can make up your own mind.
Please note: Recommended retail prices are listed in this table. Please check our price list or contact us for an updated wholesale price.
Which Phone Booth is Right for You?
Marketing spin aside, which phone booth will suit your office's needs, function and style?
The QZone is an entry-level phonebooth with an accessible price point and customizable acoustic features. On the other end of the spectrum, the SpacePod prioritises sound reduction and premium finishes, with no compromise on build quality.
No matter your budget or style preferences, we're confident we have the right phone booth for your project.
OLG Supports You
As one of Australia's leading office furniture wholesalers, we do everything in our power to support our resellers. For a full list of everything we can do, check out How OLG Can Win You a Deal.
Stuck for ideas? Or maybe you just want an office furniture wholesaler that you can rely on. Give us a call on 02 8188 2732 or send us an email so we can discuss some options.
Want to keep reading? Find out what's new with OLG or head over to the OLG Learning Centre. You'll find a curated archive full of educational articles and industry content, all completely free to use.