If you're asked to picture the ideal office environment, what comes to mind? Does your version of the ultimate office have an adult-sized slide instead of stairs between floors? Or maybe your dream job has a fully-stocked staff kitchen and coffee machine. The perfect office might be a little different for everyone, but there are some fundamental things most people agree on. Here are 10 things to consider when designing your office.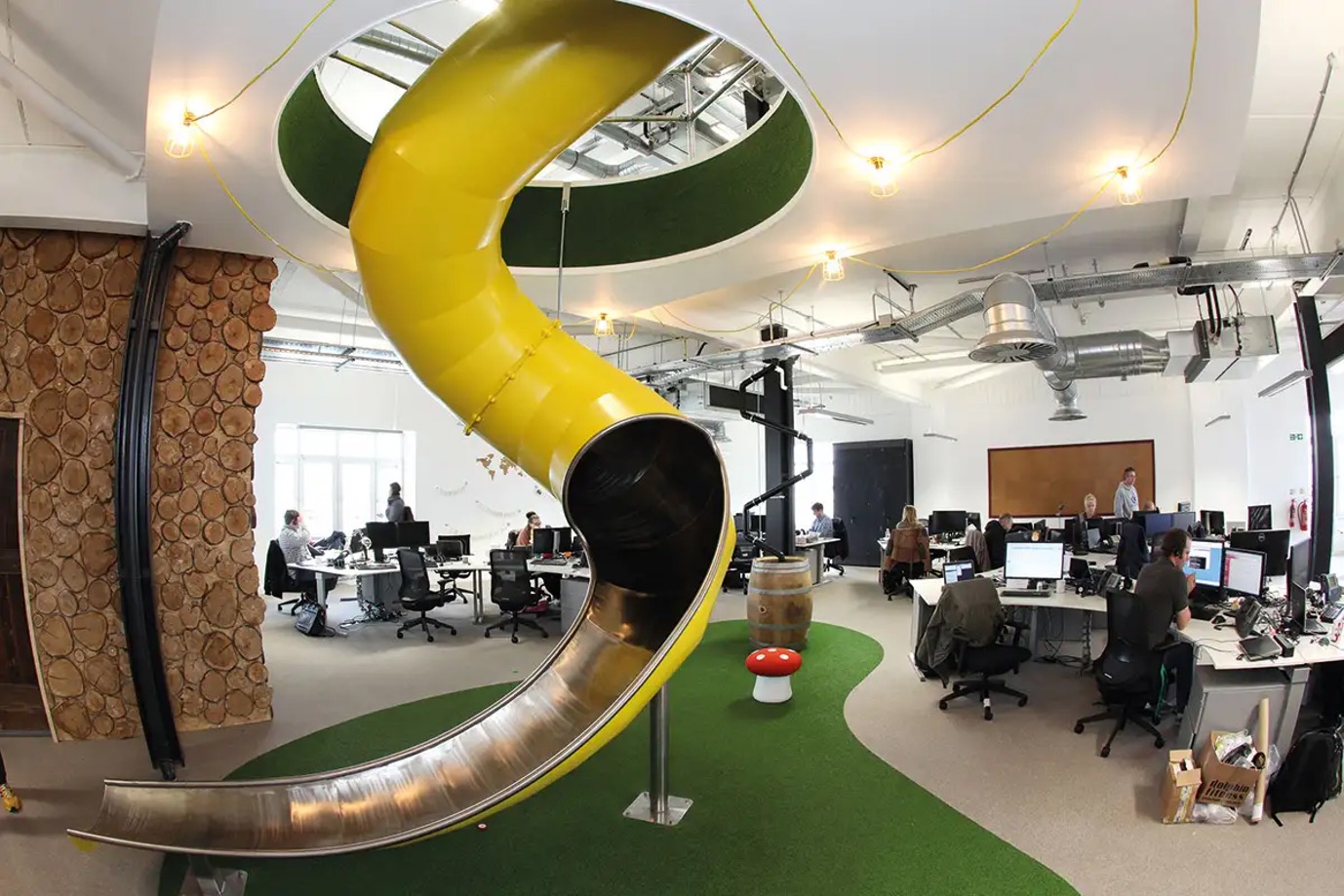 1. Functionality
The most important thing to consider when designing your office space is what kind of work will be performed. Do you want open collaborative spaces or closed-in offices where privacy is a priority? Is there a requirement for storage, and are there structural elements you need to work around?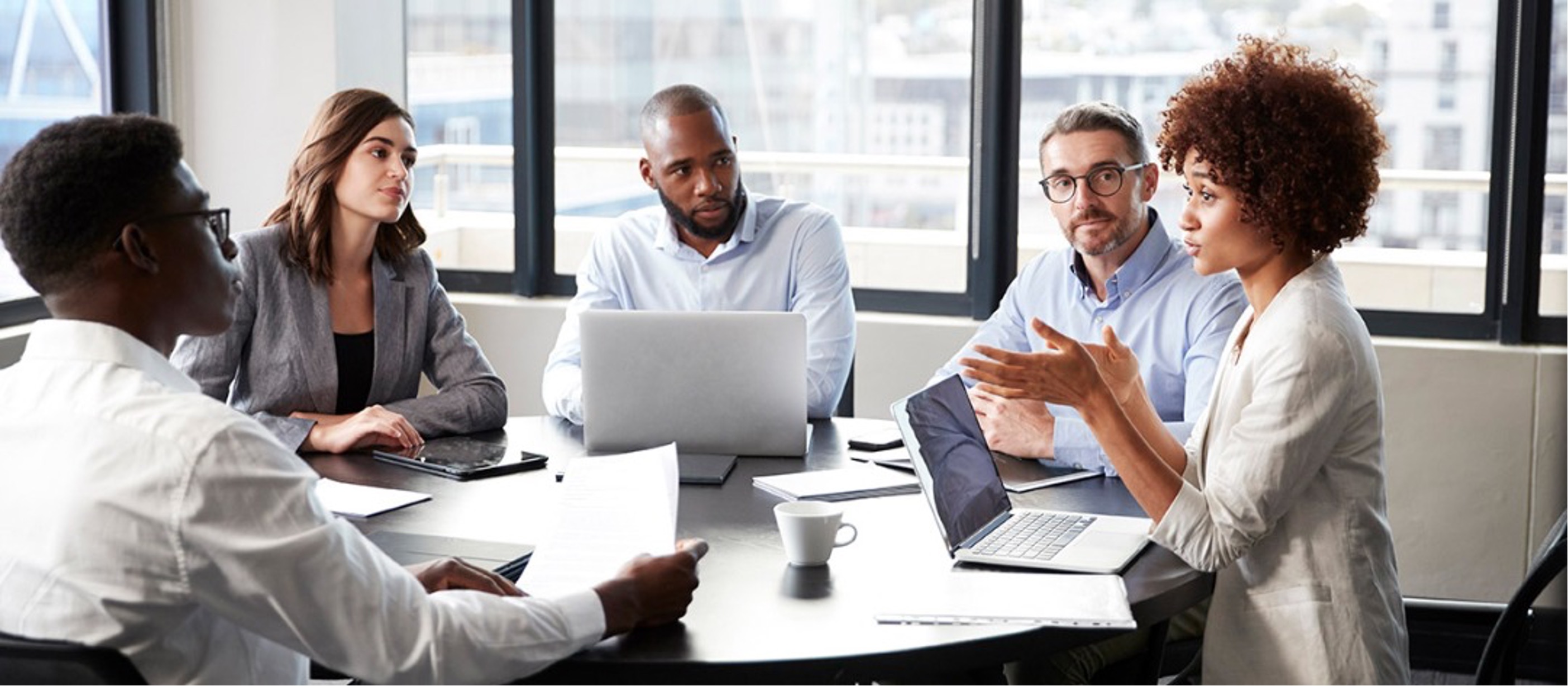 The best way to start designing your office space is through an online floorplan designer. OLG's Office Designer is intuitive, easy to use and features real-world office elements to visualize the space. You can even upload your own floorplan and overlay design elements that suit the functionality of your space. We created a handy guide on how to use OLG's Office Designer Platform for step-by-step instructions.
2. Privacy
Get Smart's Cone of Silence may have been a hilarious impracticality back in the 60's, but the ultra-private phonebooth-style pods are making a comeback.
Built for anywhere between one and four people, the newest privacy pods are lined and insulated with sound-dampening materials. This acoustic treatment helps block sound from leaving the pod, as well as reducing external noise from bleeding in. This makes privacy pods an invaluable space for taking private phone calls or attending sensitive Zoom meetings.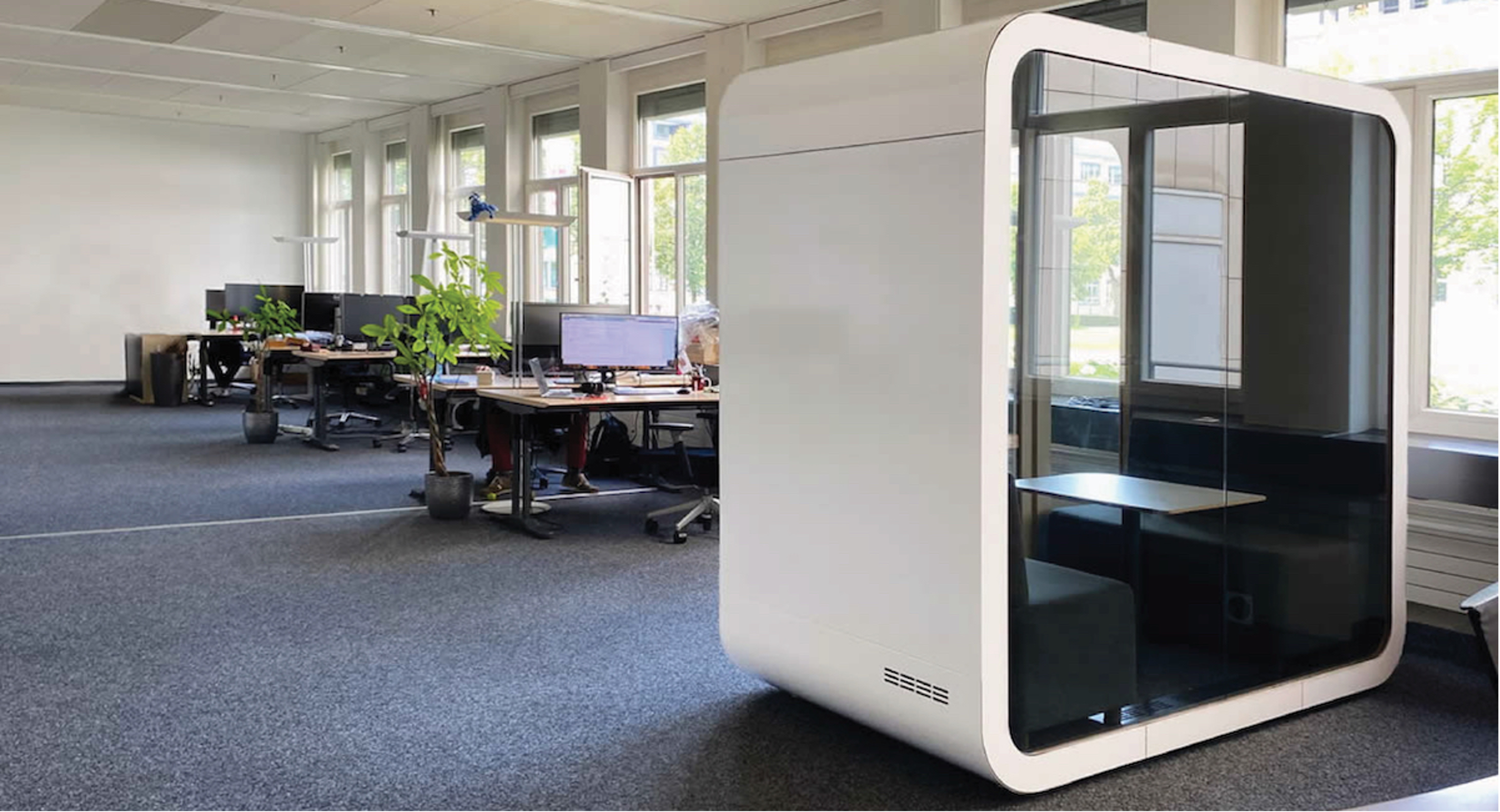 One great example is the Acoustiq SpacePod Phonebooth which comes in one, two and four-user variations. Acoustic treatment should be top of mind when designing your office.
3. Lighting
You might not think lighting is important when designing your office layout, but it has a huge impact on employee productivity levels. Poor lighting can cause eye strain and headaches as the human eye has to work harder to see. On the other end of the spectrum, (pun intended) – overly harsh lighting can be just as harmful. Florescent lighting has been linked number of negative health effects; everything from eye strain, fatigue, and even as a trigger of migraine headaches.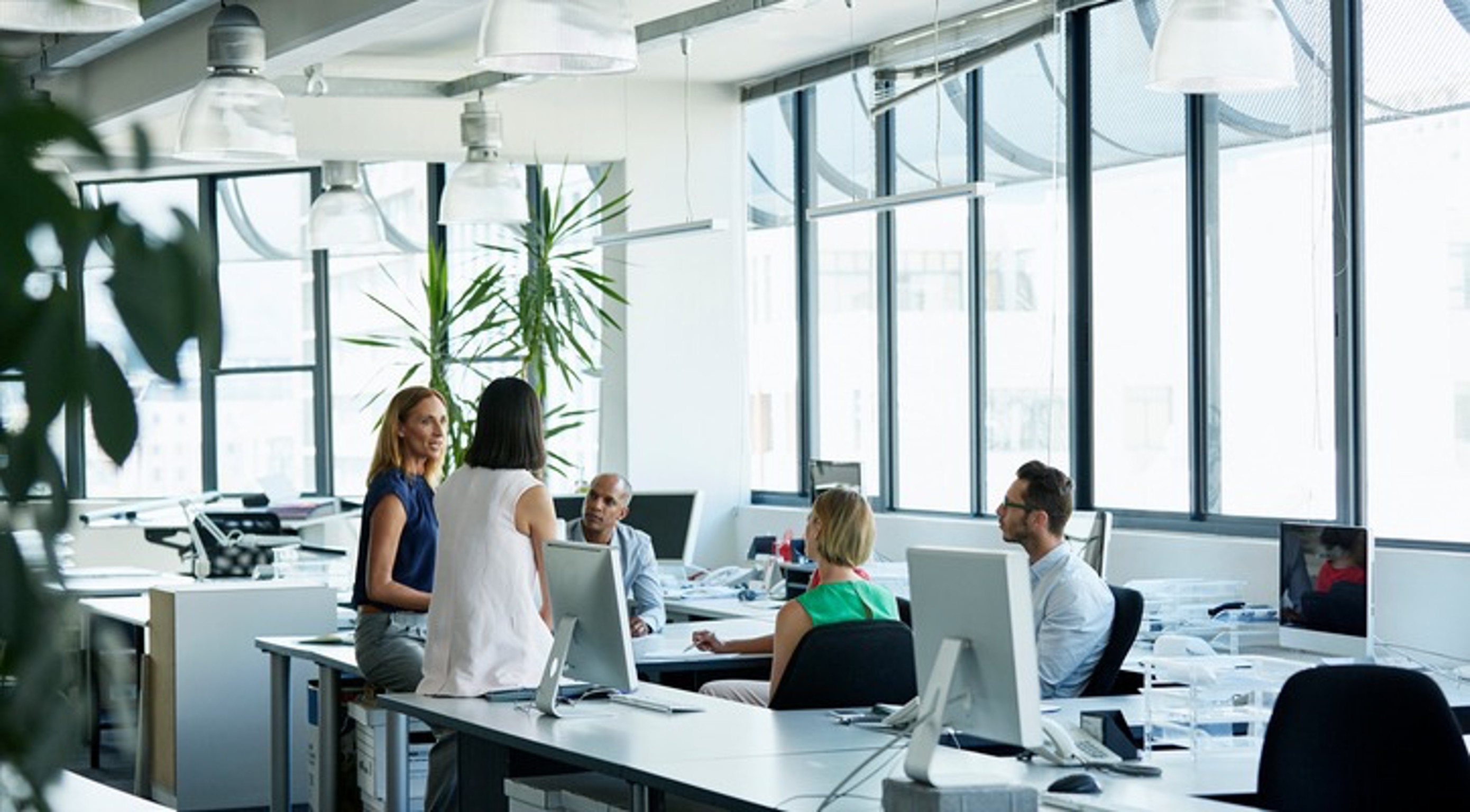 Natural light is the obvious lighting source of choice, but not always practical. In spaces where you have a lot of glass windows or skylights, use the natural light to your advantage.
An employee survey by HR advisory firm Future Workplace called "The Employee Experience" found that access to natural light and views of the outdoors are the number one perk of the workplace environment. This is even more impressive knowing that a window far outranked things like onsite cafeterias, fitness centres, and even free childcare!
But there are many more surprising benefits to incorporating natural light into your office plan. The National Renewable Energy Laboratory conducted a review on the impact of natural light on building occupants with surprising results. People that spent more time closer to windows recorded a range of benefits including improved visual clarity and colour perception, healthy sleep patterns, enhanced mental alertness, and uplifted mood.
These health benefits also translate to an increase in productivity. In fact, one recent workplace study found that employees with better access to views and natural light were 6.5% less likely to call in sick!\
4. Brand Story Decor
Every business has a story, and the most influential brands are starting to use their office space to tell that story in a way that resonates with employees and clients alike. This can come in the form of overt messaging like logos and company slogans, but many brands take a more subtle approach.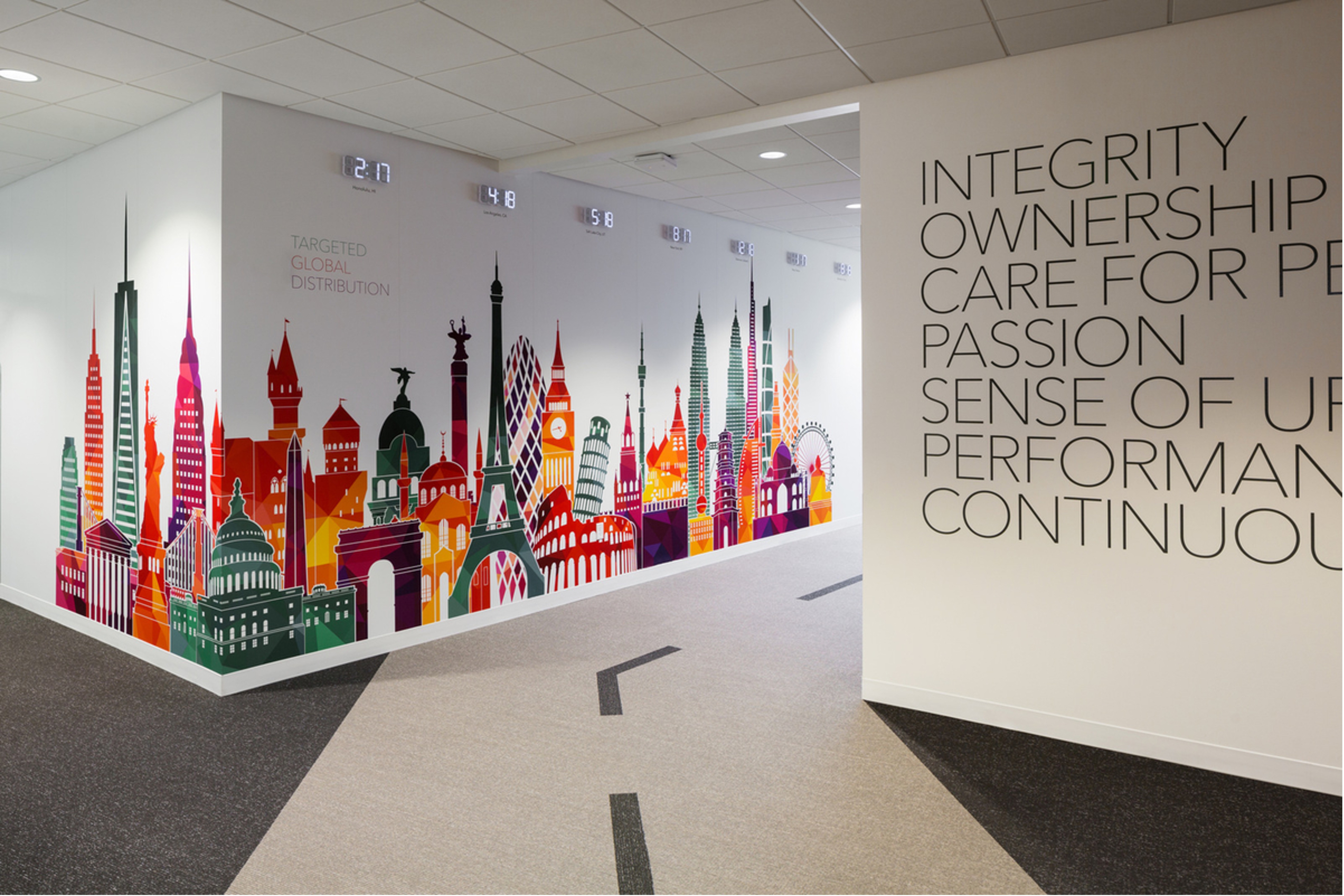 Your brand story can be told with simple elements such as wall coverings, artwork, furniture styles, colour choices, lighting, and more. By creating a cohesive theme throughout the office that reflects your brand's identity, you not only appeal to employees but also send a powerful visual message to customers.
For example, if you run an environmentally-conscious company, you might opt for a design incorporating recycled materials or other sustainable elements. Or, if you're a tech startup, you might choose a sleek and modern design that embraces the latest in digital technology.
5. Hotelification
The concept of hotelification in the workplace is a relatively new one. As the name suggests, hotelification involves integrating hotel-like amenities and characteristics into office space design. These can include features such as wellness areas, cosy seating, shared spaces, and the availability of on-site food and drink services.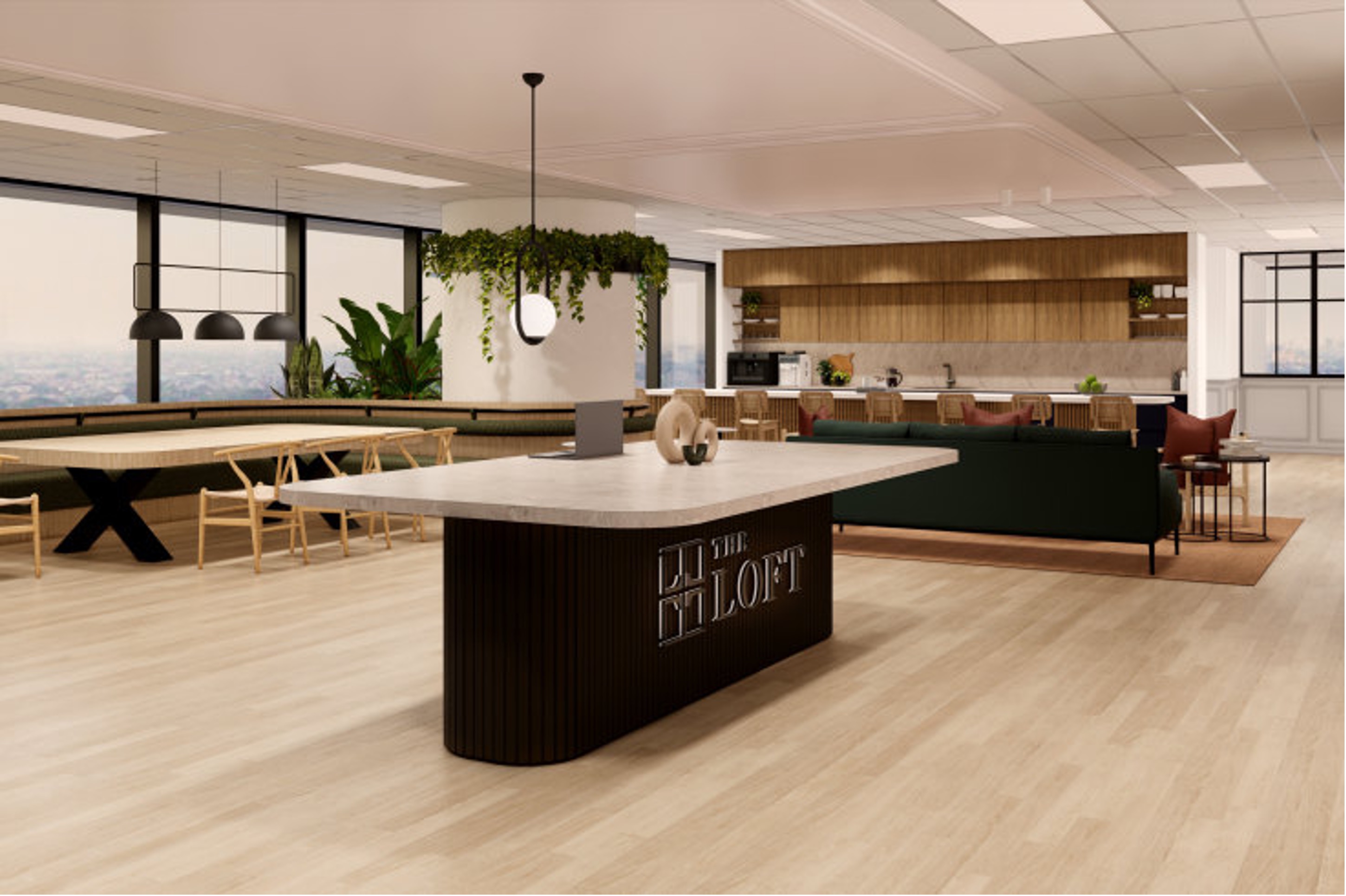 The trend was originally sparked as a way to entice workers back into the office, especially when their role doesn't require it. Ultimately, hotelification is all about offering branded and bespoke serviced spaces for an increasingly mobile population.
By providing workers with access to hotel-like amenities and services, companies can create a more enjoyable and stress-free work environment.
6. Biophilia
Described as "the love of plant life", biophilia involves bringing as much of the outdoors as you can inside. From living walls to strategically placed pot plants, Australian offices are seeing a green revival. There are a few good reasons why your breakout room suddenly has an abundance of ferns.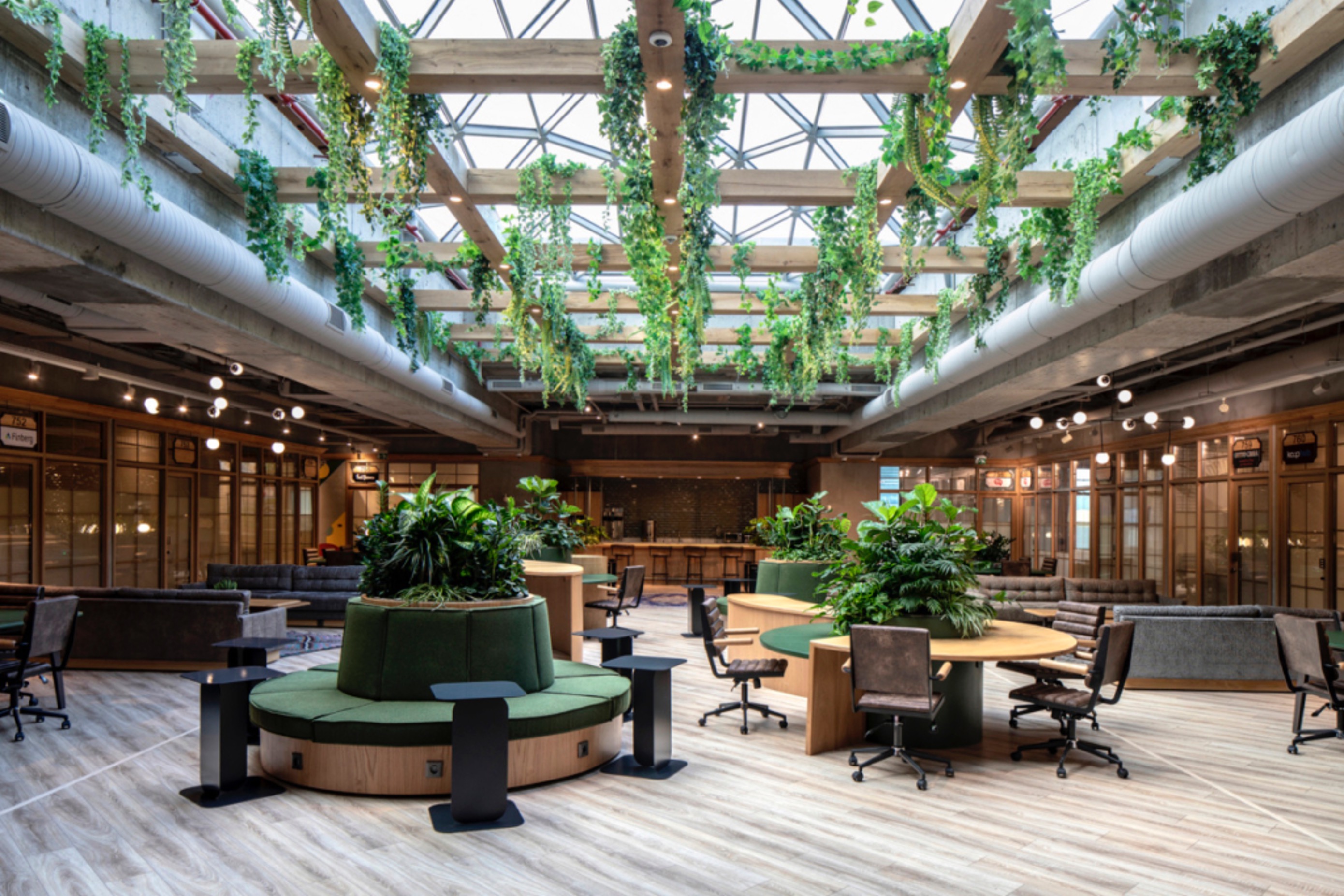 For starters, plants help with noise absorption and help create distinct zones without the need for physical walls. Secondly, being surrounded by nature is known to improve mental health and reduce psychological and physiological stress. And finally, plants absorb CO2 while secreting the oxygen we breath. This can result in a cognition boost of up to 26% according to a recent Harvard study.
Keep in mind though, most people struggle to keep house plants alive. If your office does become a quasi-rainforest, maybe consider hiring a part-time contractor to maintain the plants.
7. Technology
As the rate of technological breakthroughs increases exponentially, the modern office is set to receive some smart upgrades. Tech-designated zones known as "smart spaces" will feature the cutting edge of emerging technology. This includes future tech like wireless charging loops, VR Stations, AI-powered appliances, and much, much more!
Additionally, with the proliferation of the Internet of Things (IoT), there aren't many items still left that aren't connected to the internet. This trend is likely to continue with smart sensors and internet-connected components built into doors, windows, office furniture and accessories.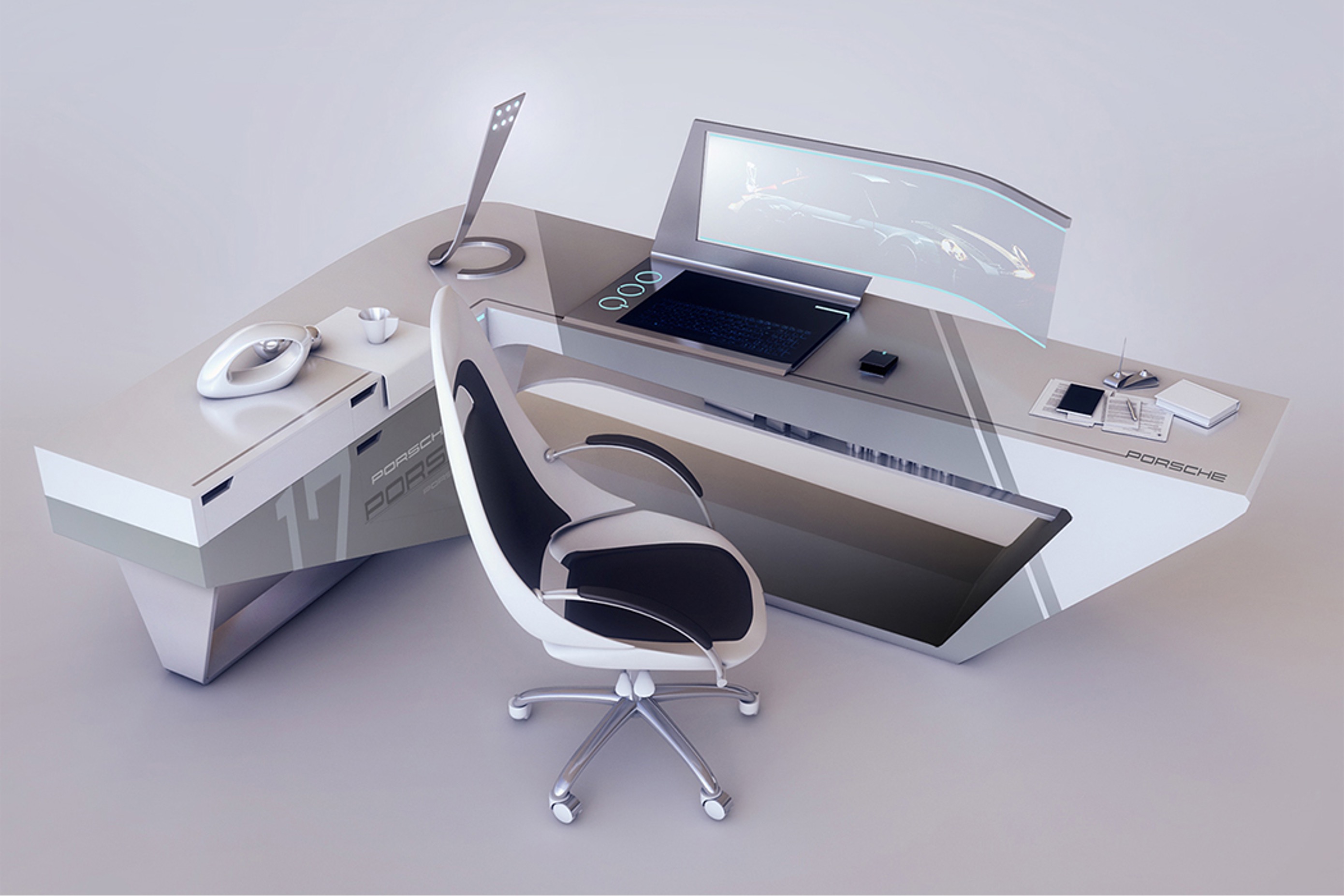 Picture an office desk that can take biometric readings from you while you work. The smart office desk of the future could essentially function as a giant Fitbit, silently gathering data about your hydration levels, blood pressure, glucose readings and much more. It could offer recommendations on the best time to have lunch, suggest walking breaks or remind you that you need to stand up and stretch from time to time.
Even better still, how about an office chair that remembers exactly the way you sit? When you've figured out the perfect combination of height, recline and back support, the office chair of the future will remember your preferred posture profile and configure itself automatically as you sit down.
It's hard to imagine designing an office without incorporating technology into your strategy at every stage.
8. Noise
Noise pollution is one of the biggest killers of productivity in the modern office. Unfortunately, there's no single culprit to blame, everyone contributes to the volume levels in some way, shape or form.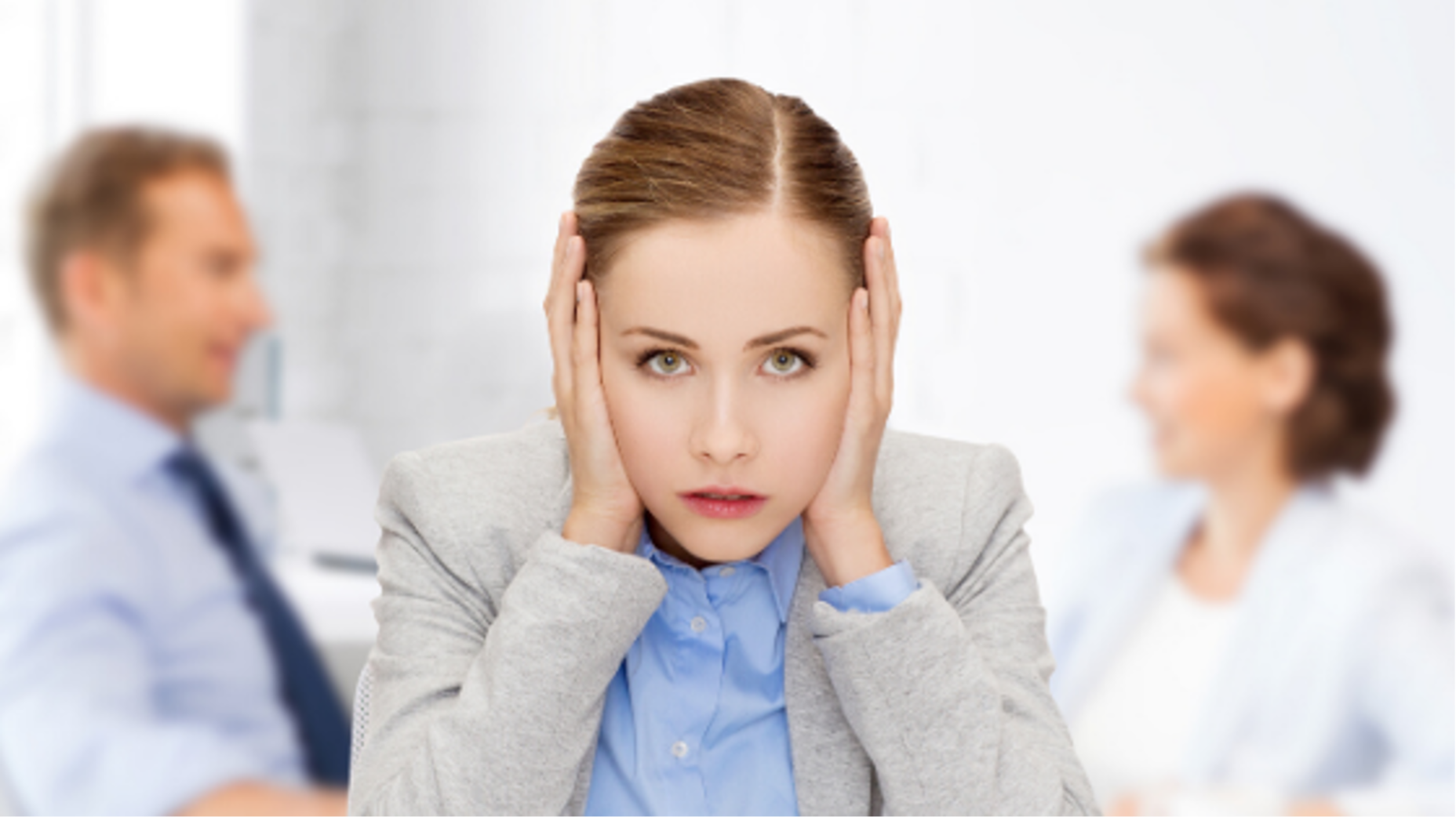 There's Mark from marketing who's forgotten how to use his inside voice. Then there's Jasper from sales, speaking to her customer on the phone at full volume. But none of that even matters when Kevin eats his lunch with his mouth wide open.

It turns out that there is a whole list of reasons to soundproof your office, each one with profound effects on your employee's health and productivity. And while you don't need to cover every surface with studio-grade acoustic foam, there are some innovative soundproofing products on the market which also double as beautiful pieces of décor.

Just as important as the acoustic treatment itself, the placement of these products can make a massive difference to the ambient noise levels in your office. With a simple understanding of the science of sound and how specific acoustic treatment works, you'll finally be able to hear yourself think.
9. Health, Safety & Wellness
Offices aren't typically dangerous worksites, in fact, office workers have the lowest incidence of injury and workplace death than any other profession. Despite this, all office designs have to at least consider OH&S requirements.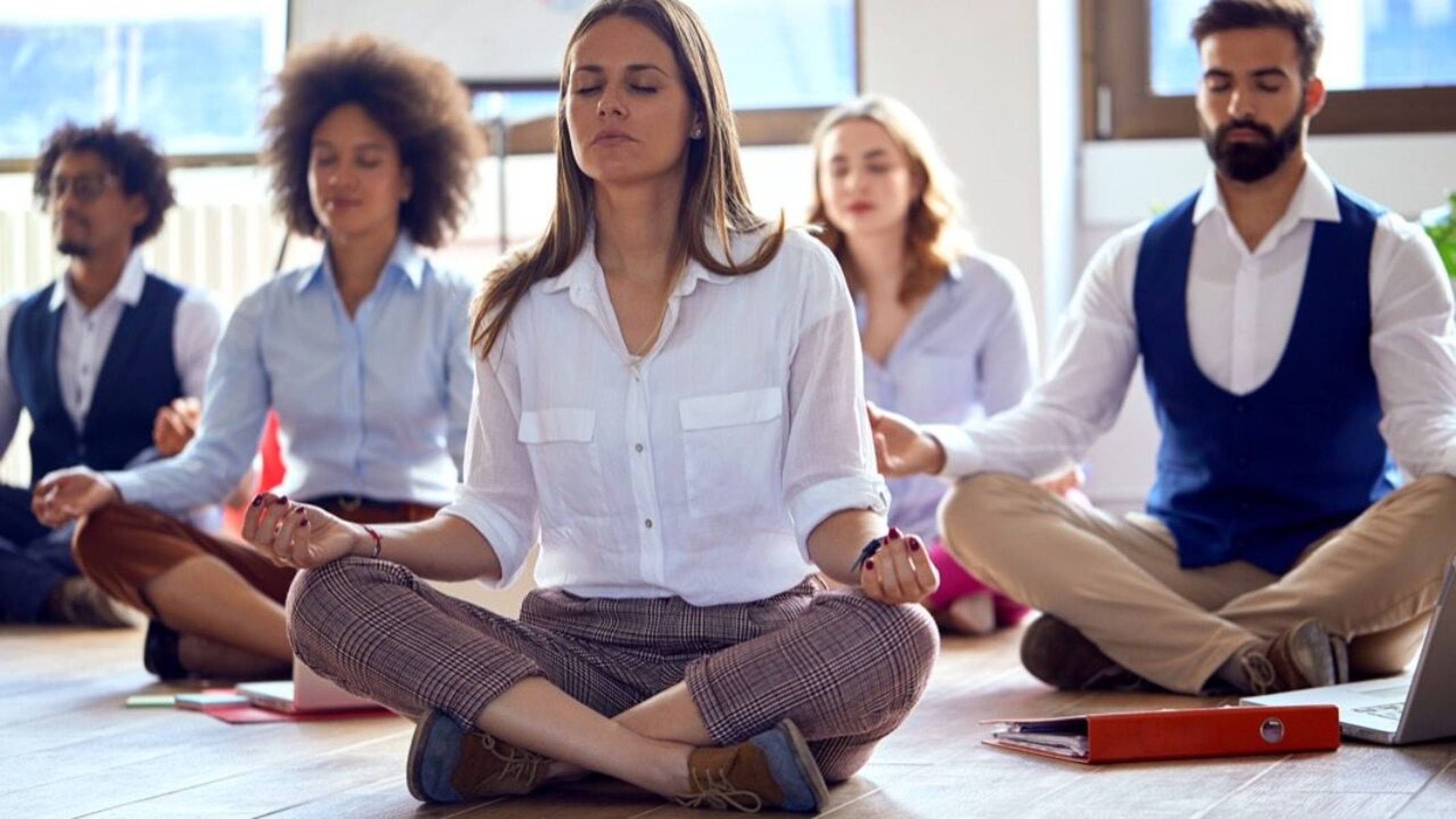 This might come in the form of ensuring that there is adequate clearance between rows of desks. You might also need to design your floorplan with fire evacuation routes in mind.

In terms of wellness, an ideal office features breakout areas, spaces for employees to have meals and adequate restroom facilities.
10. Furniture
Unless you're planning on bringing Japanese dining practices to your latest office project, you're going to need furniture to complete the ideal office. Functionality plays a key role here, but it is important to stay ahead of the latest office furniture trends.
Goodbye Cubicles
For example, ever since hybrid working was thrust into the mainstream, many office designs have been centred around hotdesking and multi-purpose areas. Rather than the traditional rows of cubicles and desks, the modern office can feature pods of standing desks arranged around a central collaborative space.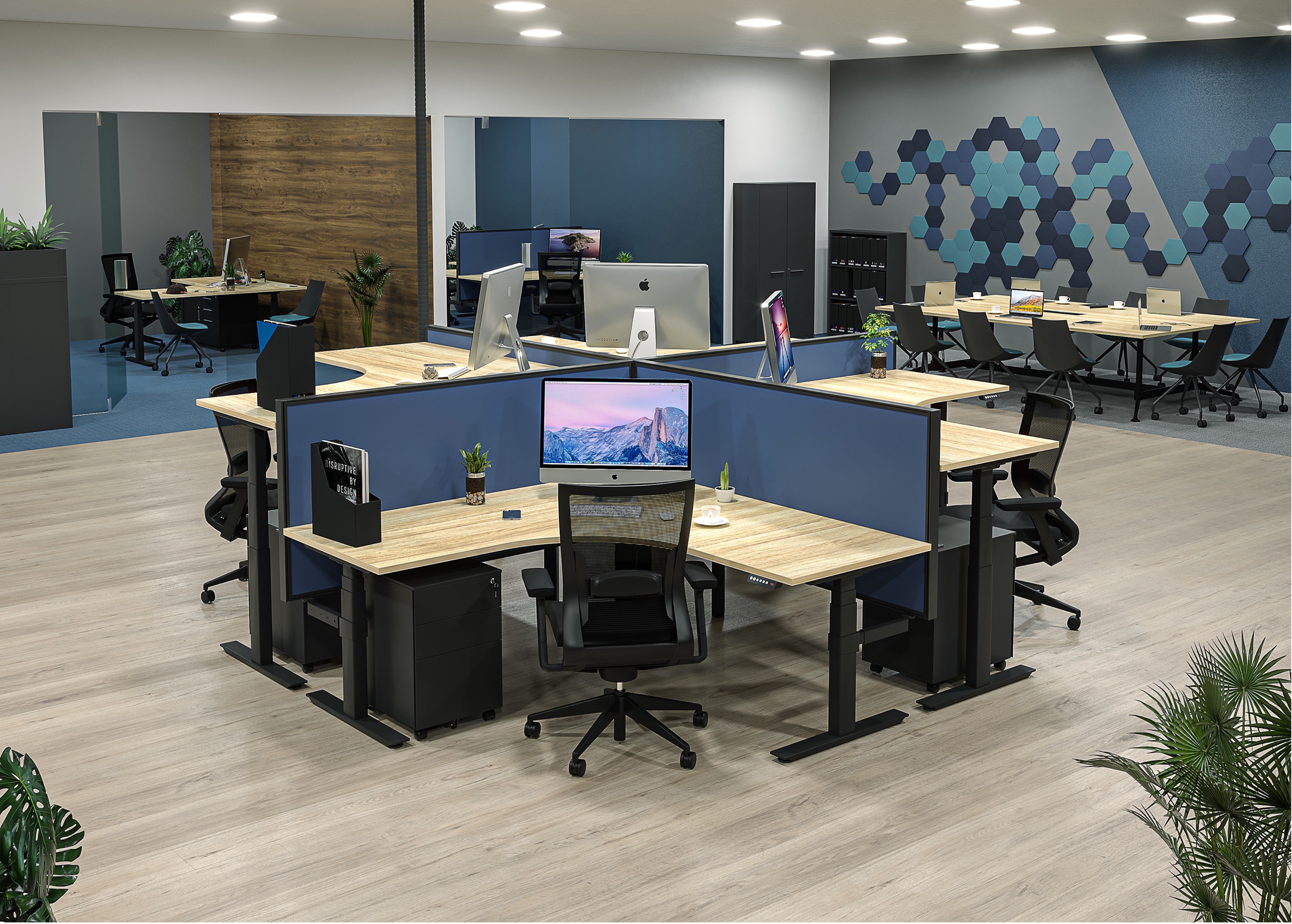 Semi-Private Spaces
If your office space consists of small teams of people that collaborate frequently throughout the day, desking solutions like the Motion Team are ideal. This design features a semi-enclosed shell wrapped in Motion Felt and two double-sized worktops on either side. Teams of up to 4 people can work in this arrangement that provides both privacy and an easier way to collaborate throughout the day. Additionally, the acoustic properties of the Motion Team provide a significant level of sound absorption, even in an open plan office.
Multi-purpose Areas
Maybe the office space you're planning is multi-purpose. Let's assume that on some days the space is used as a training room, while on other days, contractors use the space as a hotdesking hub. For this design, you could consider a flip table like the Modulus. This industry-favourite frame design features a one-handed flip mechanism for storage and smooth locking castor wheels so you can move and arrange them in any configuration you want. If you wanted to pick chairs to match, look for seating that also nests away neatly for storage. The Game Chair is a good example of space-conscious seating for multipurpose spaces.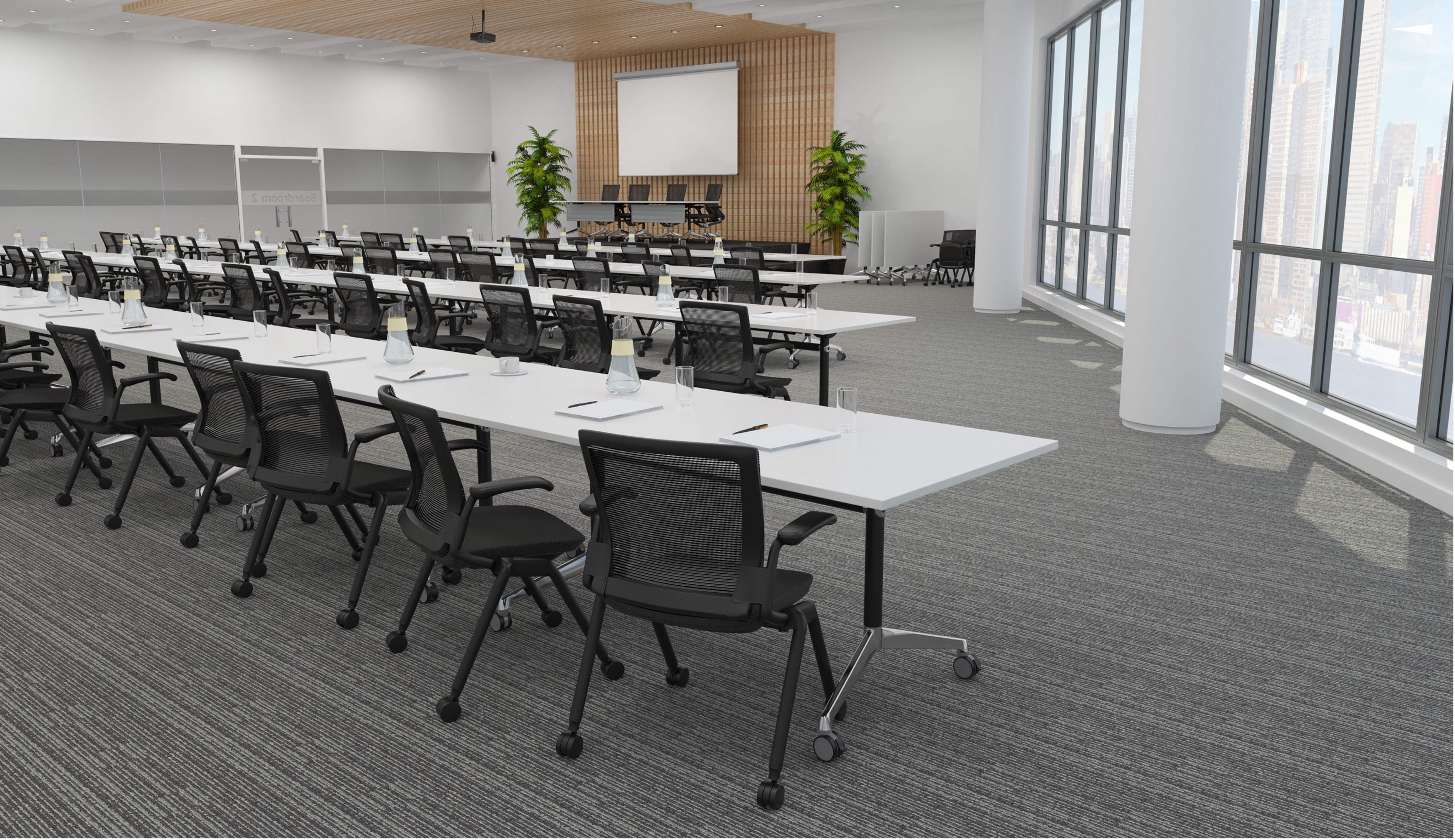 Comfort Seating
While standing desks have helped office workers break their 8-hour sitting monotony, comfort hasn't been forgotten when it comes to seating. The majority of office chairs today incorporate ergonomic design, but the main difference lies in premium features and high-quality materials. You've got a choice between fabric upholstery and mesh-wrapped frames, fixed height or gas-lift adjustable mechanisms and a whole host of additional support accessories. Chairs like the Balance Executive have height-adjustable armrests that can move across three different axes.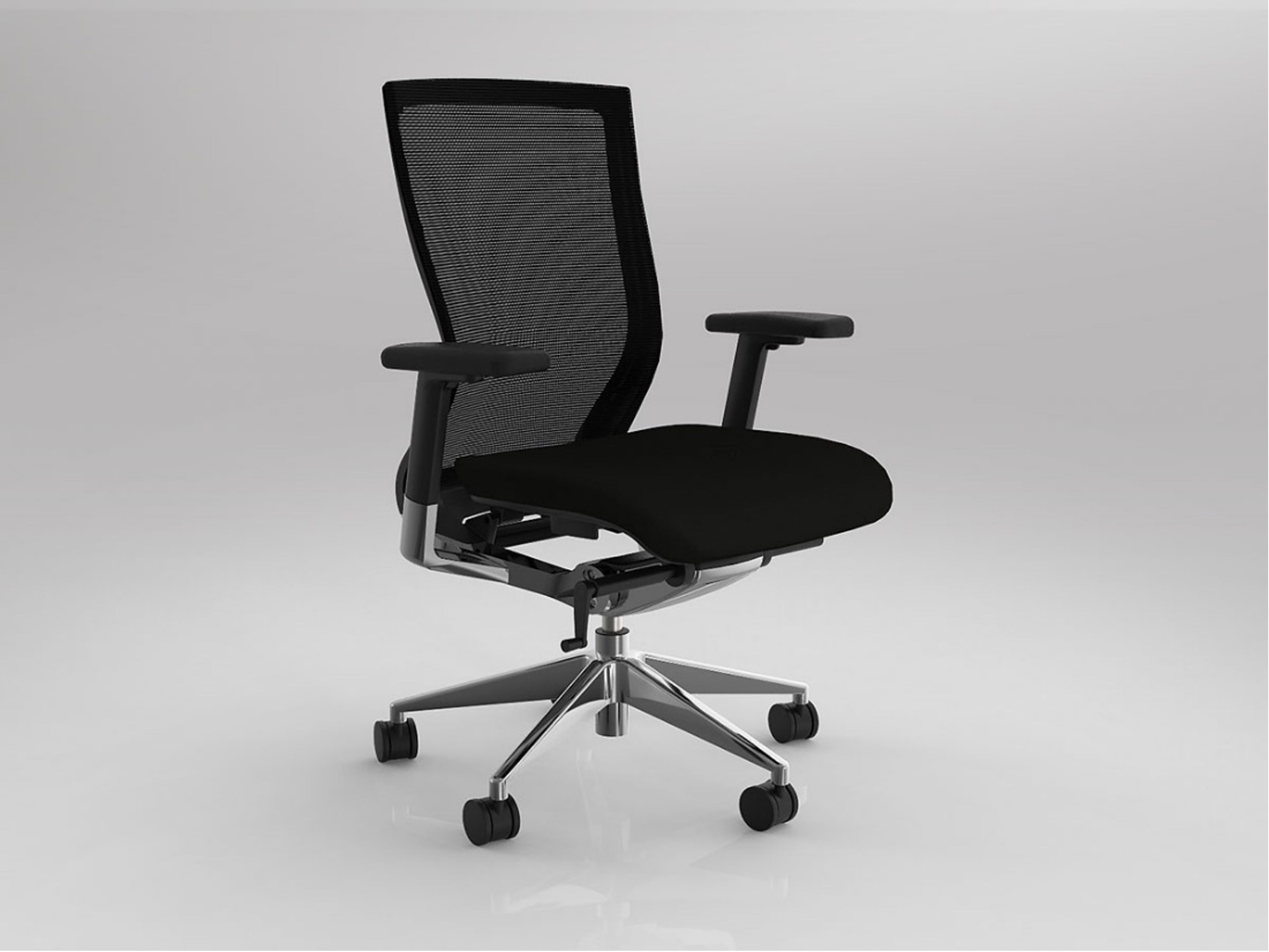 Often a forgotten element of office furniture, acoustic screens are the perfect compromise between privacy and functionality. Built from sound absorbing materials, products like the Studio 50 screen create defined zones and fit perfectly with most office table frames.
There's More Than 10 Things to Consider When Designing Your Office
While this is a pretty helpful list of the things you need to consider when designing your ideal office, it's by no means a conclusive one. More often than not, clients will approach us with complex requests that require true out-of-the-box thinking to come up with a creative solution. If you're stuck for ideas, or simply want an office furniture wholesaler that you can rely on, feel free to give us a call at 02 8188 2732 so we can discuss some options.
Want to keep reading? Find out what's new with OLG or head over to the OLG Learning Centre. There you'll find a curated archive full of educational articles and industry content, all completely free to use.