If you happen to work in an office in the CBD, take a quick look around. Have you noticed anything different lately? Are there a few more empty chairs than you're used to? Is it getting increasingly harder to find a lunch buddy? If you're suddenly feeling a growing sense of loneliness, it's not just you. Office vacancy rates across Australian CBDs are on the rise and at face value, it can be concerning for the many different industries that support them. Everyone from furniture resellers to stationery suppliers and office cleaners is impacted.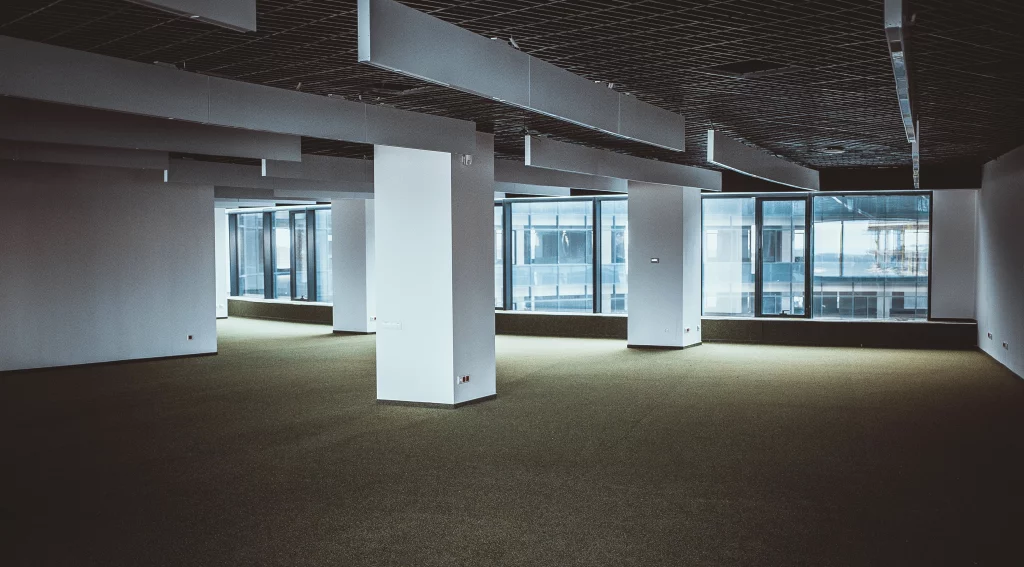 In the world of commercial real estate, the rise and fall of vacancy rates serve as a barometer for economic trends and market dynamics. Lately, there has been a noticeable shift in this landscape, with CBD office vacancy rates across Australia hitting levels not seen in almost three decades. This development has raised important questions about the future of office spaces and the industries that support them.
In this article, we'll explore this emerging trend in office real estate and find out what it means for office furniture wholesalers, suppliers, and project managers.
The National Picture
The recent increase in CBD office vacancy rates has been primarily driven by declining demand in Sydney and Melbourne. The national CBD vacancy rate has risen by 20 basis points in the last six months, reaching 12.8 percent, the highest level since 1996. Sydney's office vacancy rate saw an increase of 20 basis points to 11.5 percent, while Melbourne experienced a more substantial 90 basis point jump to 15 percent.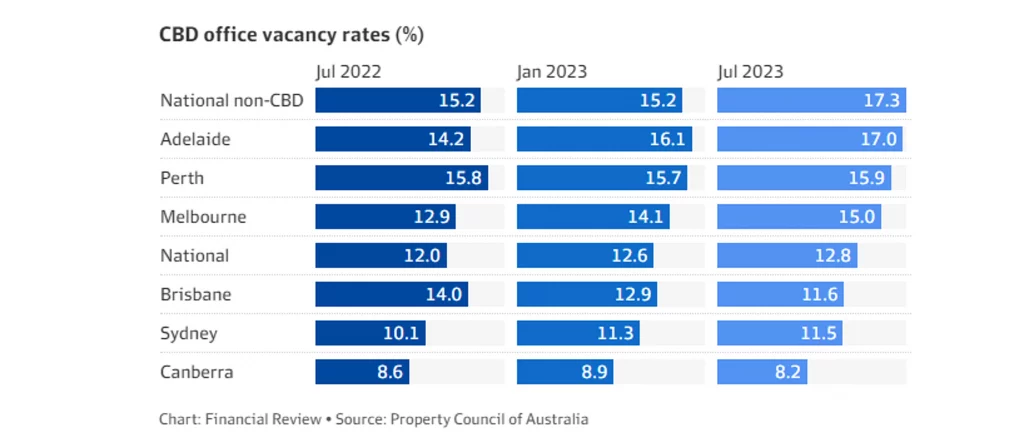 Several factors have contributed to these rising vacancy rates. In Sydney, notable office contractions included Westpac at 275 Kent Street, various tenants at Lendlease's Barangaroo Towers, and government agencies relocating and downsizing.
In Melbourne, BHP and the Department of Home Affairs reduced their office space requirements, along with many other notable companies. While much of this can be attributed to an increasing number of remote work arrangements, there are other explanations for this phenomenon.
The Broader Perspective
While these developments are significant, it's important to understand that the negative demand in Sydney and Melbourne is not the sole reason for higher vacancy rates. Above-average office supply additions since 2020 have also played a role. Melbourne, in particular, has seen substantial increases in office supply, well outpacing demand.
This situation echoes the early '90s when Melbourne experienced a similar oversupply issue, taking years to recover fully. JLL, in a Q2 Melbourne office update, even suggested that the overall vacancy rate might not peak for another two to three years due to uncommitted supply.
The National Perspective
Interestingly, even cities like Perth and Adelaide, where demand for CBD office space has been growing, experienced higher vacancy rates due to new office supply. Perth's CBD office vacancy rate rose by 20 basis points to 15.9 percent, and Adelaide's CBD office vacancy rate grew by 90 basis points to 17 percent.
In contrast, Brisbane and Canberra were exceptions, with demand outpacing supply, leading to a substantial drop in vacancy rates. Brisbane's CBD recorded a 1.3 percent increase in demand, with no new offices constructed in the last six months.
The Future of Office Spaces
While the rise in vacancy rates reflects changing work patterns, including remote work and flexible arrangements, it's important to recognize that office spaces remain essential.
Property Council chief executive Mike Zorbas highlighted the potential for increased demand due to factors like an influx of migrants and government investments in public transport infrastructure.
Treasurer Jim Chalmers' budget forecasted a significant increase in migrants over the coming years, which could counteract negative demand trends.
Additionally, while vacancy rates are a crucial indicator, they don't account for "shadow vacancies" – empty office spaces with rents still paid due to changing work patterns. As leases expire and businesses adapt, these spaces may become more dynamic.
The Resilience of Our Industry
While CBD office vacancy rates have reached historic highs in some cities, it's important to recognize the resilience of our industry. Companies are adapting to changing circumstances, and while there may be temporary blips in certain markets like Sydney and Melbourne, office refreshes are still regularly happening.
Rather than the traditional like-for-like refurbishment projects, many spaces are seeing a reimagining of how they are used. Instead of strictly using rows of cubicles or workstation pods, businesses are leaning into innovative collaborative and mixed-use spaces.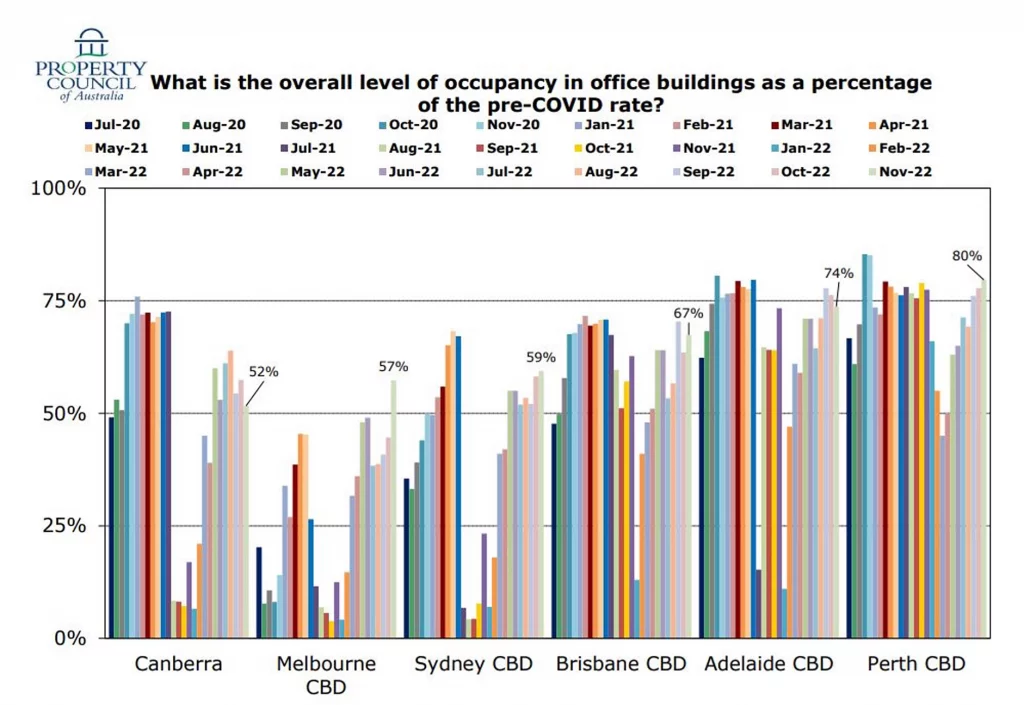 Despite vacancy rates being at record levels, it hasn't seemed to impact our industry as hard as we first feared. In fact, we've seen an increase in demand for office furniture products over the past few years, both internally and through our competition. Across Australia on average, occupancy is increasing, and this is a statistic backed by Opal data obtained from the Sydney public transport network. When comparing data from February 2023 versus previous years, the number of commuters traveling into Sydney CBD has almost reached pre-COVID levels.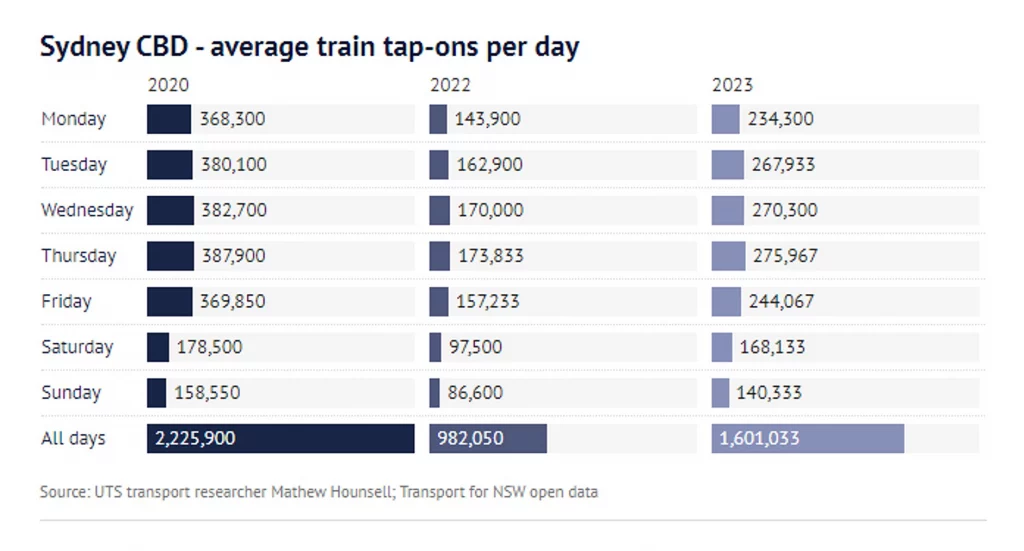 As many CBD office locations transition into mixed-use or co-working solutions, we should expect to see the demand for furniture products keep increasing over the next few years.
OLG Supports You
As one of Australia's leading office furniture wholesalers, we do everything in our power to support our resellers. For a full list of everything we can do, check out How OLG Can Win You a Deal.
Stuck for ideas? Or maybe you just want an office furniture wholesaler that you can rely on. Give us a call on 02 8188 2732 or send us an email so we can discuss some options.
Want to keep reading? Find out what's new with OLG or head over to the OLG Learning Centre. You'll find a curated archive full of educational articles and industry content, all completely free to use.