There are literally hundreds of different standing desks on the market today. With such a broad range, you also see a huge spectrum when it comes to both quality and price. You can spend anywhere from a few hundred dollars on a cheap standing desk kit all the way up to $10,000 or more on a bespoke, tech-infused workstation.
In most cases, you pay for what you get. Cheaper products generally aren't as reliable as the higher quality products that cost more. But in the middle-to-upper range of prices, how can you tell if the price tag matches the quality of the products being sold? More specifically, how do you know if an OLG standing desk (or any other standing desk for that matter) is worth the price?
In this article, we'll compare three virtually identical standing desks. One is from our popular Agile range and the other two are desks produced by some of our main competitors. Without naming names, we'll compare price ranges, capabilities, and feature inclusions on all three standing desk ranges. By the end of this article, you'll have a better understanding where OLG sits in the market, both in terms of price and quality.
The Three Contenders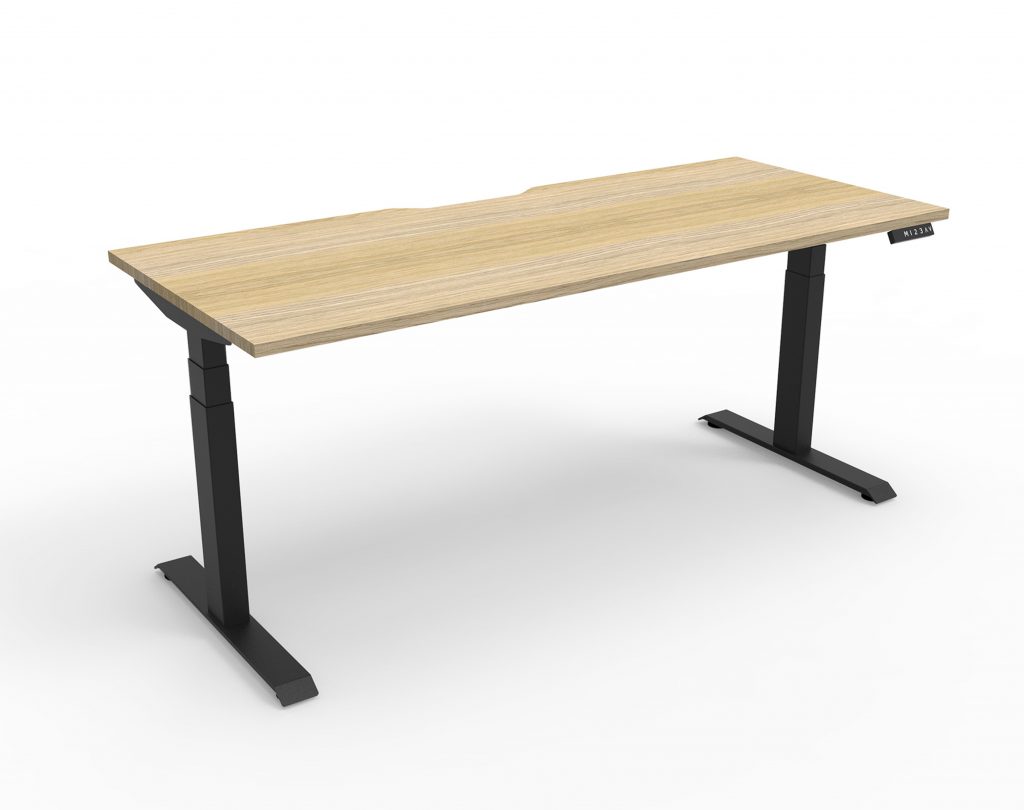 To keep things fair, we've selected the "base model" of two, single-sided electric standing desks from two of our competitors.
Entry-Level Standing Desk
The first of these competitors is known for their high-volume, "cheap & cheerful" model. They've got access to a range of off-the shelf standing desks with a minimum level of specification and often lower pricing.
Their base model standing desk has a three-column, frame built from 1.2mm thick, powder coated steel. A whisper-soft dual motor powers the desk and at 38dB, it's the quietest standing desk of all three.
While mostly favourably reviewed, a common complaint about this standing desk revolves around it's "wobble factor". Users can experience a mild to severe "rocking" or "wobbling" that can eventually require early maintenance.
OLG AgileMotion+
Popular for its high-quality craftmanship, sleek design and whisper-quiet operation, the AgileMotion+ standing desk was designed from the ground-up with business users in mind. Every design element is functional, from the mechanism that reduces instability at full height extension to intuitive cable management systems that give users that clutter-free, tangle-less experience.
The system also integrates seamlessly with other single workstations and back-to-back desks. You can further enhance the Agile+ range by adding fabric privacy panels, floor-mounted Studio50 or AcoustiQ screens, monitor arms, and personal storage units.
An office staple for over a decade, users are especially fond of the fact that the entire desk can be assembled in less than five minutes.
Higher Price Standing Desk
At the expensive end of the market, we've chosen a desk that closely resembles the other in terms of specs and capabilities. Historically, people have known this competitor as the Ferrari of office furniture manufacturers.They've been the pinnacle of high-end office products for well over half a century, having invented some truly iconic pieces.
Product Comparison – Side by Side
We've taken the most commonly advertised specs and capabilities and arranged them for easy comparison. In the table below, you can clearly see which products deserve their price tag and which products are charging for a brand name.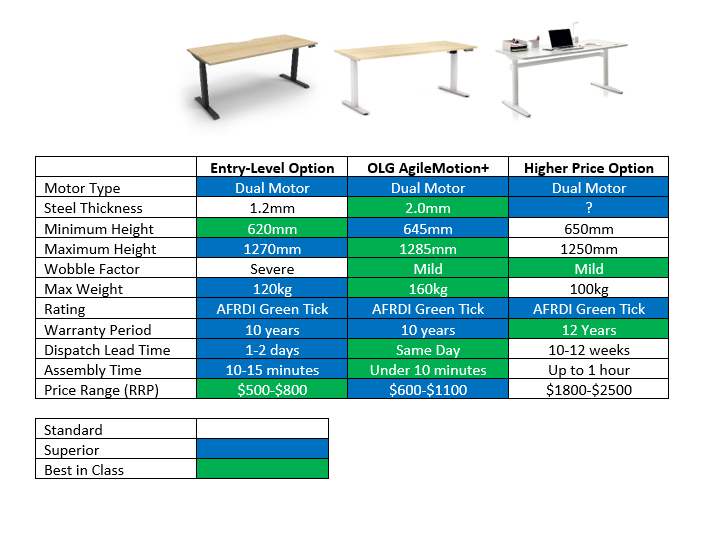 OLG Supports You
As one of Australia's leading office furniture wholesalers, we do everything in our power to support project managers and resellers. For a full list of everything we can do, check out How OLG Can Win You a Deal.
Stuck for ideas? Or maybe you just want an office furniture wholesaler that you can rely on. Give us a call on 02 8188 2732 or send us an email so we can discuss some options.
Want to keep reading? Find out what's new with OLG or head over to the OLG Learning Centre. You'll find a curated archive full of educational articles and industry content, all completely free to use.