What's your ultimate workstation setup? Are you a 90's hacker with more monitors than megabytes? Or are you more of a minimalist who prefers the simplicity of a single screen? Whether you need a single or double monitor arm for your workstation will likely come down to a mixture of preference and how you need to work. That's not to say large, multi-display configurations aren't possible. Your video editors, day traders and computer coders are likely to be running at least three monitors.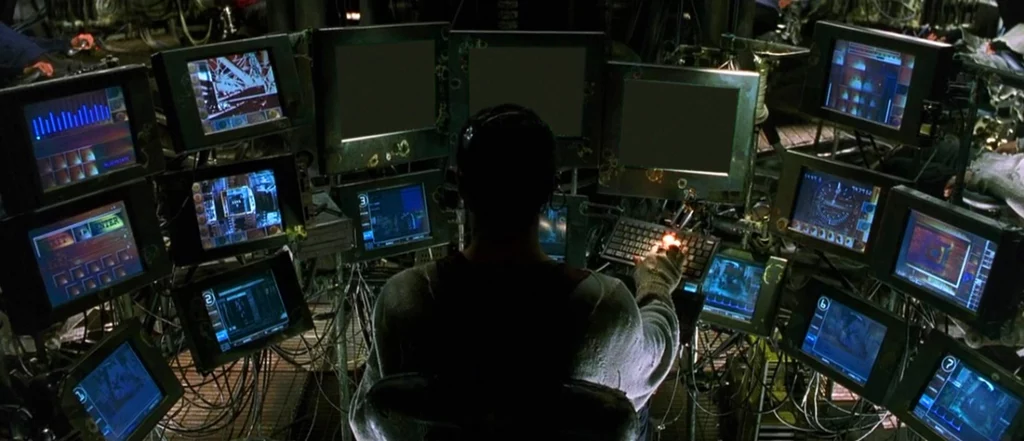 In this article, we'll explore the various options and configurations you can have with both single and double monitor arms. We'll look at the advantages and disadvantages of either option and provide some examples of how they're used.
We're in the Display Age
It's clear that we're in the display age. Look around, almost everything has a screen now.
A few decades ago, this was unthinkable. Screens were heavy, low-resolution, and needed mains power to operate. Now, while the concept of dual monitors wasn't completely foreign, it was just considered too expensive or impractical for your average office worker. Desks struggled under the weight of a single CRT monitor, let alone two!
Technology caught up over the years since and it has transformed the workplace. Thinner, lighter, and more efficient displays meant that two or more monitors has become the norm for office workstations.
There's no denying the boost in productivity when working with multiple monitors. Imagine going back to Alt-tabbing your way through work while squinting into a single, 15" laptop screen.
But is there such a thing as too many monitors?
Is There a Limit to the Number of Screens we can use?
Technically, this depends on your computer. Most PC's and laptops can comfortably support two additional monitors depending on their video card, motherboard and available ports. You can install additional video cards, connect docks or use signal splitters to extend this number, but each subsequent display puts increasing strain on your computer's resources.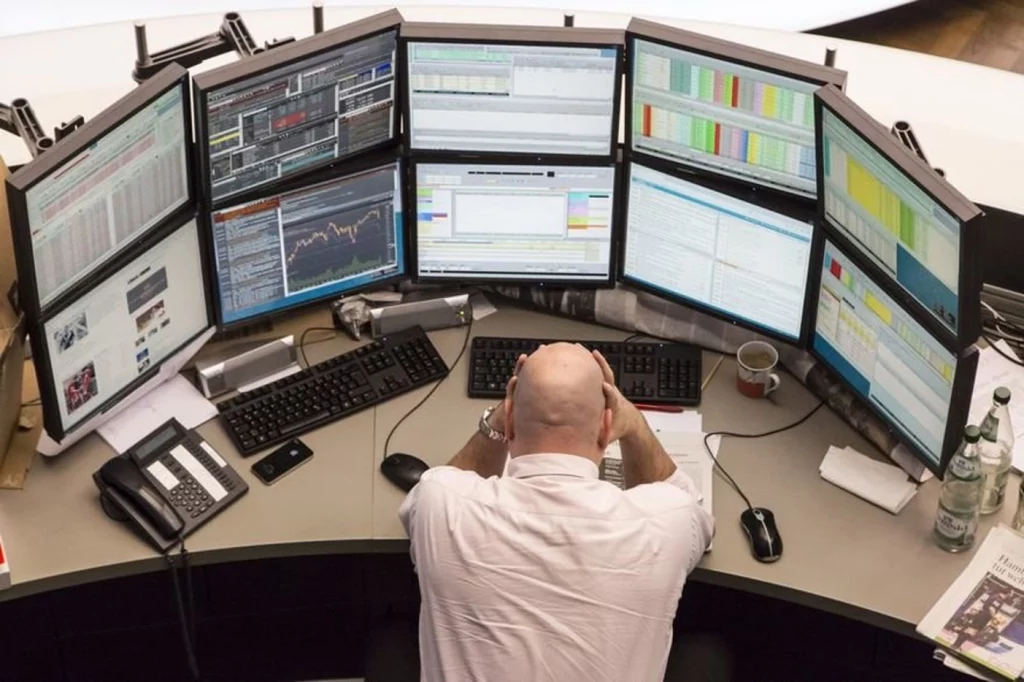 But when it comes to your average office employee, they're only ever going to need two monitors at most.
So, who comes out on top? Single monitor or dual monitor arms?
Single Monitor Arms
There are many reasons why you'd opt for a single monitor arm over a dual monitor setup. Let's explore some of the pros and cons.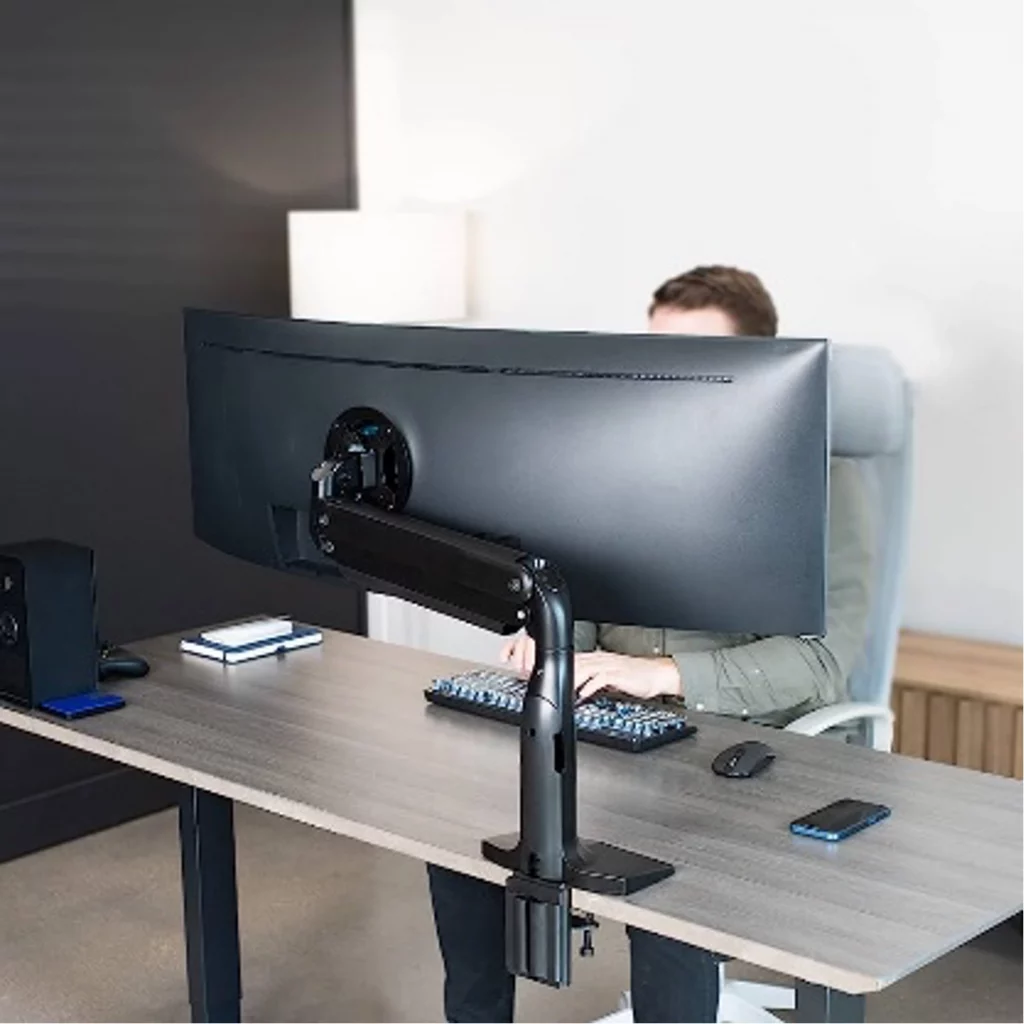 Advantages of Single Monitor Arms
With a single arm and one point of cable management, a single monitor arm can be sleeker and tidier than dual arms.
Curved and Ultrawide monitors are becoming more and more popular in the modern workplace. Single monitor arms are often the only solution that can hold the heavier monitor weights. The Proflex Single Monitor Arm for example can hold up to 18kg, more than enough to hold 49-inch ultra-wide curved screens.
Provide a clutter-free worktop without power or display cables.
Additional arms can be added to achieve a dual monitor setup. This configuration has more ergonomic versatility than a dual monitor arm setup. Users can adjust angle, depth and orientation of each monitor independently, providing an optimal working environment.
Lighter solution than a dual-monitor setup.
Less expensive compared to dual alternatives.
Disadvantages of Single Monitor Arms
Adding a second, free-standing monitor can make your workspace less functional.
Desk must be compatible the specific with monitor arms and have sufficient weight rating.
Dual Monitor Arms
There are many reasons why you'd upgrade to a dual monitor arm configuration. Let's explore some of the pros and cons.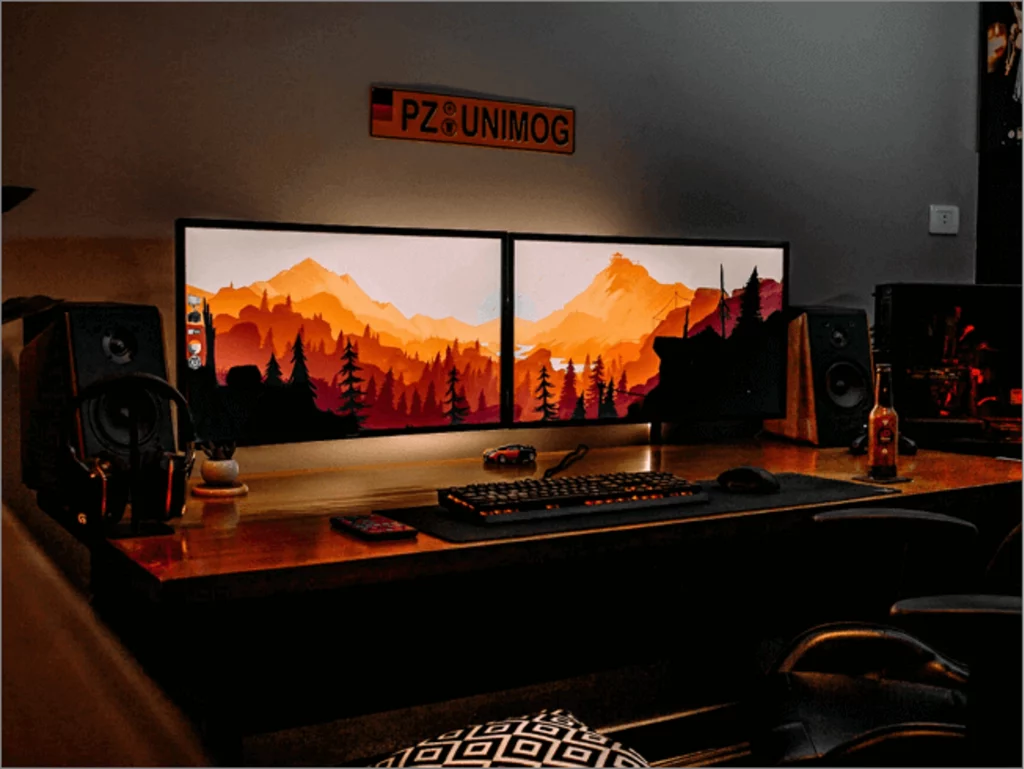 Advantages of Dual Monitor Arms
Great for creating "display symmetry", or two equal working spaces.
Less expensive option when compared to two, single monitor arms.
Single column can hide arms, power and display cables behind the monitors.
Multiple configuration options that include one or both monitors in portrait mode.
Users can adjust angle, depth and orientation of their own monitors.
Disadvantages of Dual Monitor Arms
Dual systems have less flexibility when it comes to positioning. Due to their fixed pivot points, the two monitors are much closer to the user's face – a nightmare for long-sighted employees.
If one monitor is removed, it can be difficult to centre the remaining one.
The desk must be compatible the specific with monitor arms and have sufficient weight rating.
Proflex Single Monitor Arms
Strong, versatile and built to last, the ProFlex Single Monitor Arm is the ultimate solution for a clutter-free and ergonomic workspace.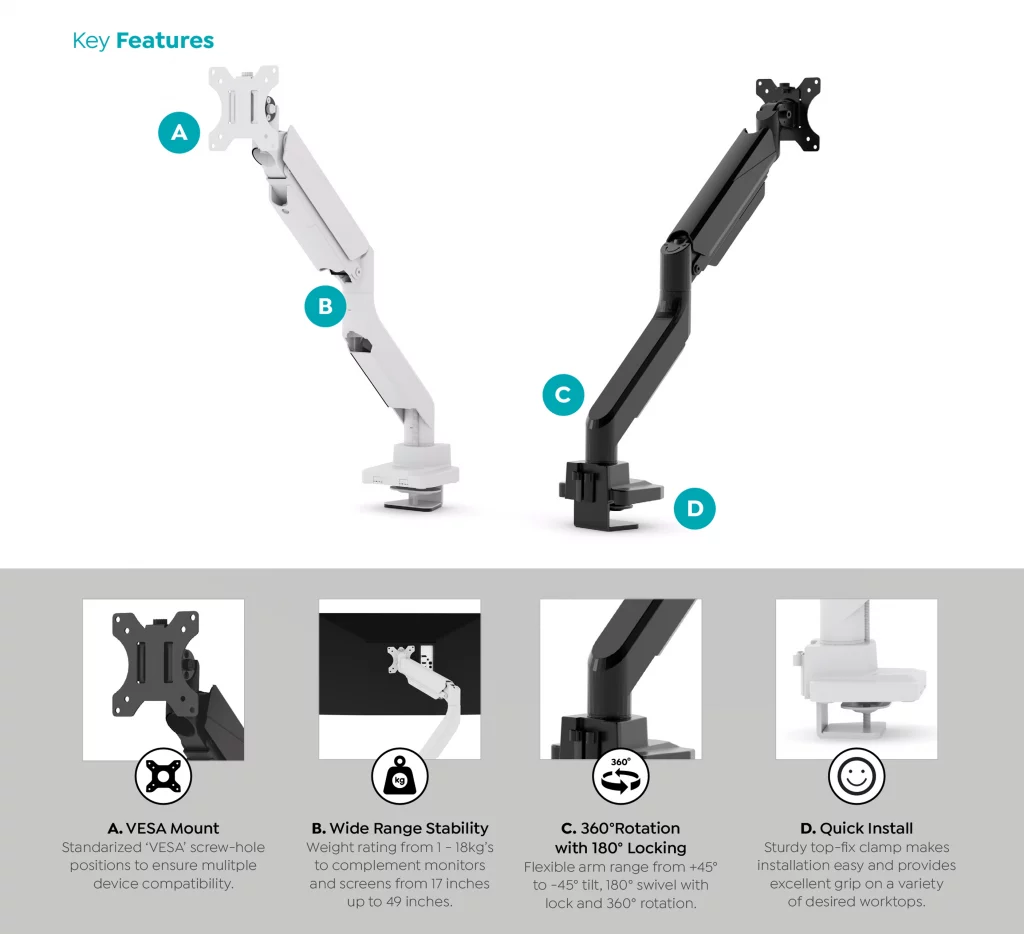 With an impressive best-in-class 10-year warranty, 18kg weight rating and compatible with monitors up to 49″, it's the perfect companion for a variety of workspace configurations. You can effortlessly tilt, swivel, and rotate your screen to find the optimal ergonomic angle that suits your needs. The wide range of flexible motion allows you to tilt your monitor from +45° to -45°, swivel a full 180° with a lock feature for stability, and even rotate a full 360° for seamless transitions between portrait and landscape orientations.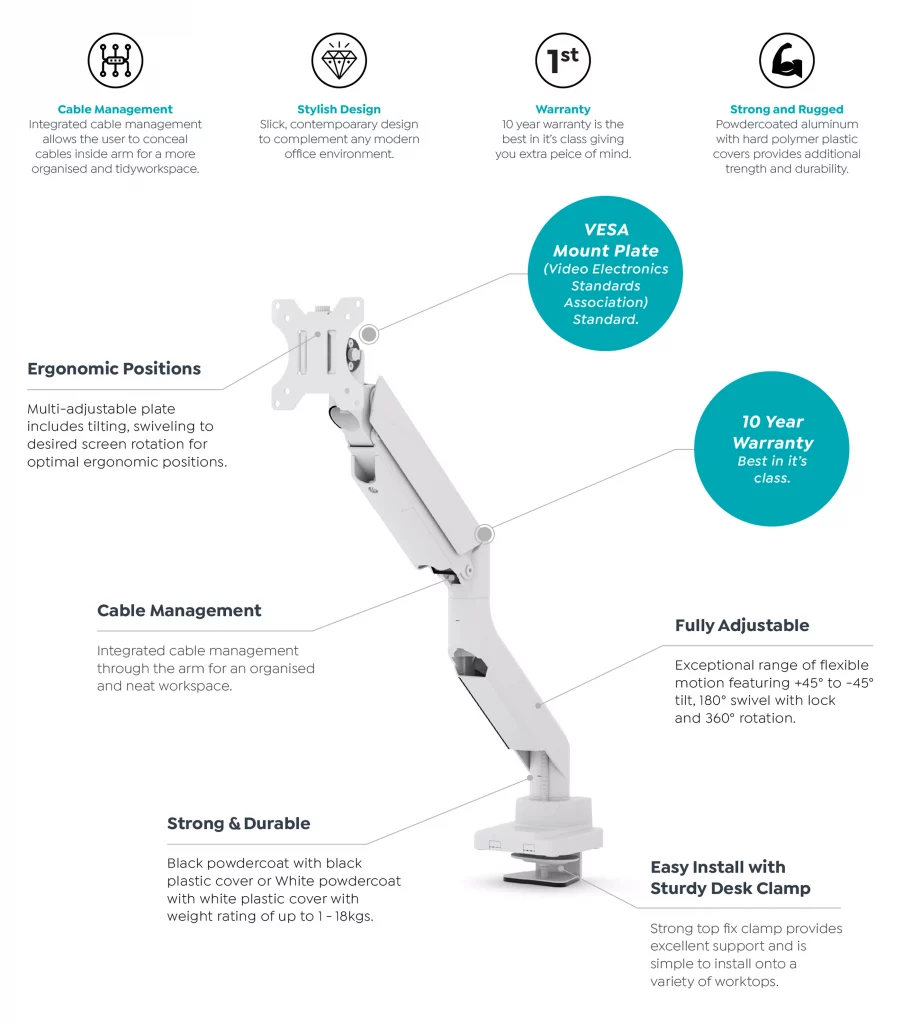 Crafted from your choice of black or white powder-coated aluminium and steel and articulated in modern polymer covers, the ProFlex Single Monitor Arm exudes both style and durability. Easily and quickly installed onto new or existing workstations, the strong top fix clamp provides excellent stability without damaging the underlying worktop.
Should I Use Single or Dual Monitor Arms?
The answer to this question will ultimately depend on one factor: the role requirements of the employees at each workstation. Single monitor arms are tidier, more ergonomically functional and in many cases, more robust. While dual monitor arms can hold a significant amount of weight, only single monitor arms can hold the increasingly popular ultrawide and curved screens.
OLG Supports You
As one of Australia's leading office furniture wholesalers, we do everything in our power to support project managers and resellers. For a full list of everything we can do, check out How OLG Can Win You a Deal.
Stuck for ideas? Or maybe you just want an office furniture wholesaler that you can rely on. Give us a call on 02 8188 2732 or send us an email so we can discuss some options.
Want to keep reading? Find out what's new with OLG or head over to the OLG Learning Centre. You'll find a curated archive full of educational articles and industry content, all completely free to use.