We're more than halfway through 2023 and for those not paying attention, it's already been a massive year so far. In the first half of the year, we've introduced four new products, signed the contract on a new warehouse space and invested heavily in our R&D. It's been a fast-paced start and we aren't slowing down anytime soon. Moving into the third quarter of 2023, it's time to provide another round of OLG updates.
Welcome to the Team
Nathan Impala
Key Account Manager – Victoria
Heading up our expansion into the Victorian market, Nathan brings with him a wealth of knowledge and experience in sales and customer account management. Armed with an infectious relatability, problem-solving mindset and fast-growing product knowledge, Nathan's already proven himself as a vital player in the OLG success story.
Aaron Bartram
Sales Director
Originally hailing from England, the best way to get Aaron on side is to never mention the Ashes. Despite barracking for the wrong team, Aaron is an accomplished sales director from the world of FMCG. His proven approach to business development is key to strengthening partnerships with OLG resellers, and we're excited to have him on the team.
Oli Olandres
Storeman With an eclectic career history spanning telecommunications, childcare and sales management, Oli comes to the OLG family with a fresh and unique perspective. Keen to learn the ropes of every part of the business, we extend Oli a very warm welcome!
Joshua Perry
Storeman
Formerly a mechanic with BMW, Josh jumped ship to join the OLG team back in June this year. Licensed in both forklift and auto-picker machines, Josh took out the "Employee of the month" on just his second month working here. Josh is a welcome addition to the team!
Brand New Products
At OLG, we're constantly on the lookout for innovative new products that our customers want. Here are just some of the brand-new products we've launched in the third quarter of 2023.
Ekosystem Hutches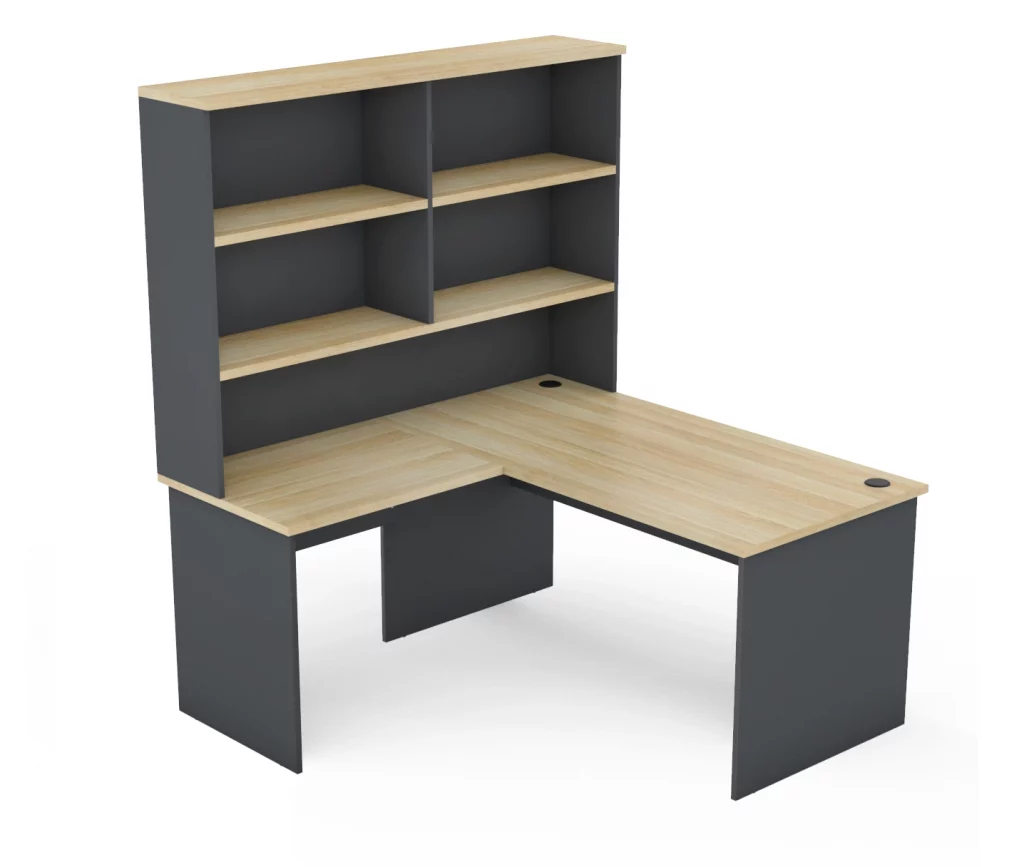 A place where storage meets style, the EkoSystem Hutch is a seamless solution to a messy office.
Utilizing the highest quality materials and expert craftsmanship, the EkoSystem Hutch features E0-grade melamine panels and shelves in your choice of studio white or the new oak/charcoal finish. A matching PVC edge complements the aesthetic look while an additional series of shelving holes allows for effortless customization.
More than just a standalone storage solution, the EkoSystem Hutch easily integrates with desks, cupboards, credenzas, bookcases, and a vast array of other office furnishings. With the EkoSystem Hutch, you can say goodbye to time-consuming assembly nightmares. In less than 10 minutes, you can go from flatpack to finished. We've thought of everything, including providing you with all the necessary tools to get the job done.
ProFlex Monitor Arms

Strong, versatile and built to last, the ProFlex Single Monitor Arm is the ultimate solution for a clutter-free and ergonomic workspace.
With an impressive best-in-class 10-year warranty, 1-18kg weight rating and compatible with monitors up to 30″, it's the perfect companion for a variety of workspace configurations. You can effortlessly tilt, swivel, and rotate your screen to find the optimal ergonomic angle that suits your needs. The wide range of flexible motion allows you to tilt your monitor from +45° to -45°, swivel a full 180° with a lock feature for stability, and even rotate a full 360° for seamless transitions between portrait and landscape orientations.
Crafted from your choice of black or white powder-coated aluminium and steel and articulated in modern polymer covers, the ProFlex Single Monitor Arm exudes both style and durability. Easily and quickly installed onto new or existing workstations, the strong top fix clamp provides excellent stability without damaging the underlying worktop.
More to Come
There are plenty more products in development, planned for release throughout Q3 of 2023. Here is a sneak peak of a few of them.
Flow & Engage Chairs (Late August)
Vista Chair (Early September)
AgileX 3-Column Standing Desk (Mid September)
So, What's Next?
These are just some of the things that have changed at OLG since we last spoke, but there's even more we haven't mentioned! If you miss us as much as we miss you, we really should catch up. If you're looking for an office furniture wholesaler that you can rely on, feel free to give us a call at 02 8188 2732 so we can discuss some options.
Want to read our previous updates to see just how far we've come? Find out what business improvements we added in Q1, Q2, as well as our 2022 Year in Review. Want to keep reading? Head over to the OLG Learning Centre. There you'll find a curated archive full of educational articles and industry content, all completely free to use.